Moldovan President Igor Dodon gave an interview to the newspaper Nezavisimaya Gazeta. The interview commented on the issues of the foreign policy vector of modern Moldova, its relations with Transnistria, etc.
According to Igor Dodon, if Moldova refuses the dialogue with Russia, mutually beneficial cooperation, this will lead to grave consequences for the country. The President of the Republic of Moldova noted that the economic situation in Moldova still looks sad, adding that if Moldova continues to oppose itself to the Russian Federation, it can completely lose its statehood.
Journalists
"Independent newspaper"
asked Dodon if they are trying to influence the situation in the country of Romania and Ukraine?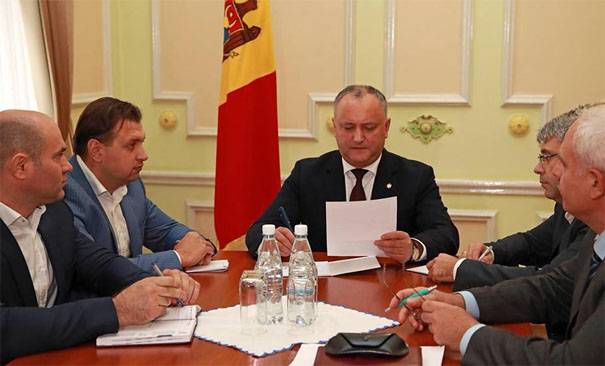 The response of the President of the Republic of Moldova was:
The situation in Ukraine affects what is happening in our country. The instability that we see there in recent years worries us, especially since Moldova has a very large Ukrainian diaspora. We want everything in Ukraine to be good - these are our neighbors, brothers, we have common
historical
roots, common Dniester - with common problems. As for Romania, there is a policy at the level of state institutions of power designed to unite with Moldova. I am categorically against such a position. If Romania considers itself a people friendly to Moldova, then it should not pursue a policy aimed at the liquidation of our state.
Next, Dodon led a statement by the notorious Jacob Kedmi, who said that the upcoming NATO office in Chisinau "will work on uniting Moldova with Romania."
Dodon touched on the possibility of acquiring independence of the PMR.
Everyone knows about my position of a federal government. But in fact, it does not matter what it will be called: federation, autonomy ... It is important what this status will be filled with. I believe that all the powers that Transdniestria has today should be left to him. Parliament, president, government, flag. And from the Transnistrian budget, we should not take a penny. We should have a common statehood, a common budgetary, banking system, a common foreign policy ... Common borders.
The Moldovan President noted that today there are only two scenarios for the PMR: either remain part of Moldova, or become part of Ukraine.
Dodon:
Obtaining independence or becoming a constituent entity of the Russian Federation is unrealistic for Transnistria.
Further, Dodon noted that for Chisinau, the settlement of the Transnistrian issue should be the number one task.