In the ranks of the Ukrainian national battalion "Azov" there are more and more mercenaries from Germany and other European countries, reports the German magazine
Mirrors
. According to the newspaper, Ukrainian radicals attract like-minded people by handing out flyers at various neo-Nazi events calling for "saving Europe from extinction."
The goal is a recruitment operation in order to "conquer Europe again." And this group attracts including German neo-Nazis among young people.
- writes Spiegel.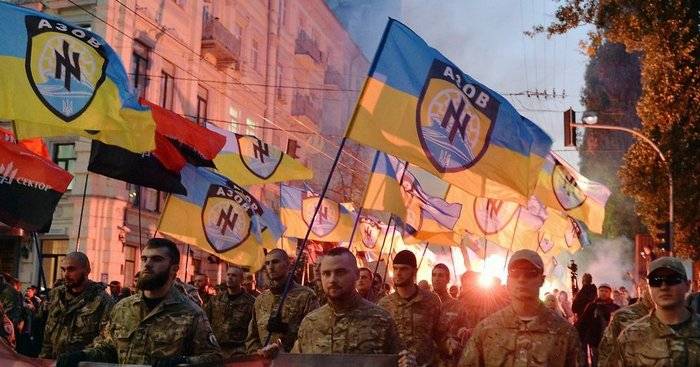 The advertising campaign of the Ukrainian radicals was crowned with success, the author states: over the past three years, the number of Azov members has tripled. In 2014, it included, according to the publication, 850 people, and now - 2500. In particular, in July they managed to attract people at the Rechtsrock festival in the German city of Temar. About six thousand ultra-right radicals took part in this event. The fighters of "Azov" handed out flyers to the crowd, inviting them to "join the ranks of the best."
The article in Spiegel was commented on his Facebook page by political analyst Vladimir Kornilov. He recalled with irony about the statements that there was no Nazism in Ukraine.
Spiegel writes about the neo-Nazi militants of Azov. But the truth is, the stories about the Ukrainian Nazis-it's just "an invention of Russian propaganda"? Fascism is not in Ukraine?
- he asks.