In preparation for his next visit to Russia this year, Turkish President Recep Tayyip Erdogan commented on a joint statement on Syria, approved at the APEC summit by the presidents of Russia and the United States. According to Erdogan, if Vladimir Putin and Donald Trump declare the need to find a political way out of the crisis, then they must take the main step.
This step, according to Erdogan, should consist in the withdrawal of Russian and American troops from the territory of Syria.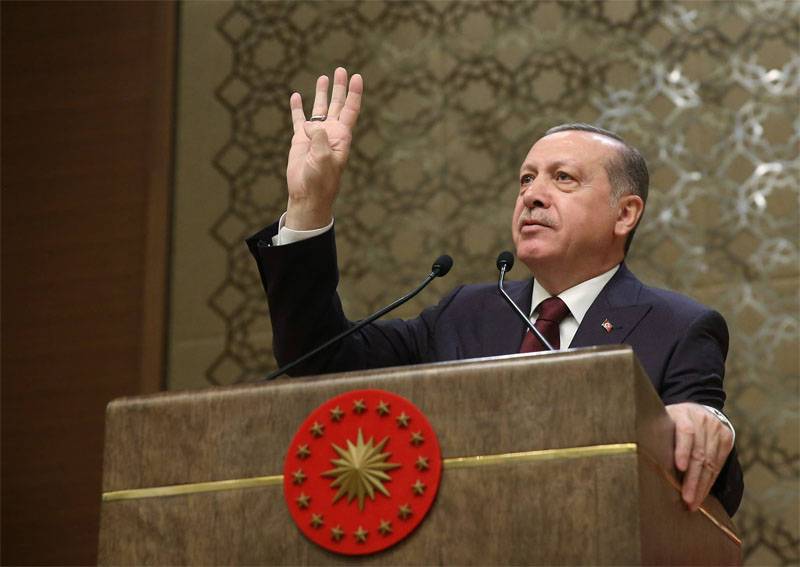 RIA News
quotes a statement from the Turkish president
America has five bases in northern Syria, and eight more in other regions — 13 in total. there is
weapon
which America put there. Russia has five bases in Syria. How to deal with these obvious things?
Erdogan adds:
It is said that this crisis cannot be solved by military means. Then let them recall their military, and the solution to the crisis will be political. Let's look for ways to elections together (in Syria).
It is noteworthy that such a statement is made by the president of the country whose army units entered Idlib (Syria); a country that has repeatedly crossed the Syrian border, actually pushing it with the help of technical means into the depths of the territories of the Kurds living in the SAR. Therefore, it would be nice for Erdogan to start with the Turkish military on Syrian soil, especially considering that the Turkish troops are in the SAR not by the sanction of the UN Security Council and not at the invitation of official Damascus.
Recall that Turkey positions itself as a partner of Russia in the so-called Astana format. Not so long ago, Moscow gave the go-ahead for the sale of Ankara C-400.