In the publication "The Czech Position", the material was published by the authorship of V. Kuchik, reflecting on what the reason for the next aggravation of relations between the West and Russia is. More than a detailed material, as it turns out, is a real bunch of Russophobia and anti-Russian rhetoric. The article is titled:
"Russia is not a modern national state, but the last European empire"
.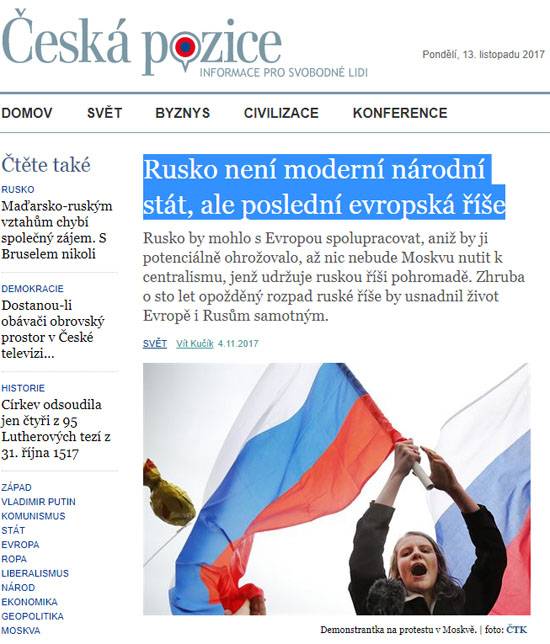 The Czech author, who works for one of the richest people in the Czech Republic, uses such momentum, which is quite possible to state: we have terry propaganda, the aim of which is to try to humiliate Russia and only aggravate the conflict between the Russian Federation and Western countries. These revolutions lucidly make it clear what the West wants from Russia.
Kuchik calls Russia "the last survival of colonial empires with a feudal form of government."
Kuchik:
Such a territorial entity can save only authoritarianism. But this authoritarianism threatens other countries of the world.
According to the Czech author, the fate of Russia - the collapse. The author declares that at one time the Bolsheviks "saved the country from disintegration, in fact, retaining the imperial spirit, which is now a threat to many." Kuchik notes that Putin is doing everything to prevent Russia from disintegrating.
From the material:
Russia, as an empire, will always be in danger. At the very least, it will always create problems for its neighboring countries. It will cease to be threatened only in the event of a breakup. Almost a century later the collapse of the Russian Empire will make life in Europe and the Russians themselves easier.
In principle, even without Kuchik, it has long been understood that the West will "calm down" in its Russophobia only when it sees Russia weak or cracking at the seams.