The American edition of The New York Times, which is least suspected of sympathizing with Russia, came out with material in which the Crimea peninsula was marked as Russian territory. Under the inscription Crimea, it was marked as "disputed territory".
It is noteworthy that this fact revealed Garry Kasparov, one of the most prominent in its "irreconcilability" of the opposition of Russia, and the forward of the Ukrainian authorities expressed outrage at the publication in the American newspaper.
From the message of Mr. Kasparov on Twitter:
This map on the NYT shows the Crimea in the same color as Russia, as the "disputed" territory. Controversial from Putin's point of view, because of his invasion! Sad and mistaken. Crimea is Ukraine. Mark this.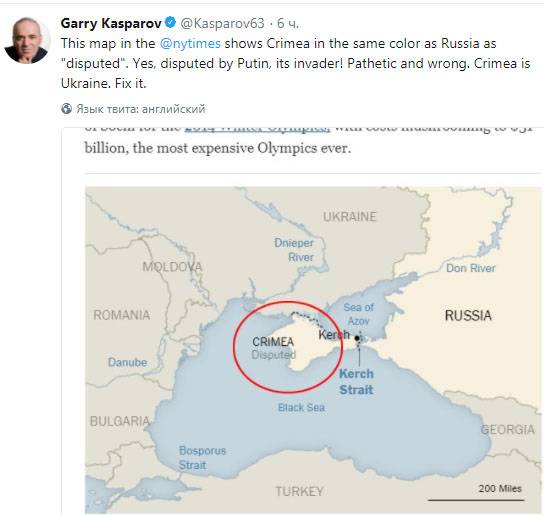 The map itself in the American newspaper was published in a material telling about the construction of the Kerch bridge. American authors, arguing about the new transport direction of Russia, stated that the Kerch bridge "may turn out to be more of a symbol than an object of high traffic traffic."
Recall that earlier Russian Crimea was designated by other publications of Western countries, which de jure try to declare that they do not support the reunification of the Crimea and Russia.