For the Ministry of Defense of the Russian Federation the first aerostat relay complex was created. Raised to a height of several kilometers, the system is capable of transmitting large volumes of information and promptly bring staff teams to the troops, according to
News
.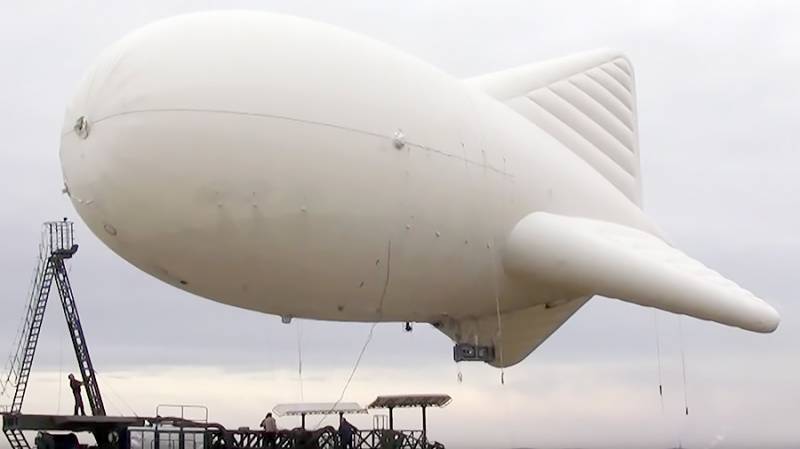 The balloon with a communication complex was created by the concern "Vega" (included in the holding company "Ruselectronics").
During the tests, the main tactical and technical characteristics of the complex were confirmed. The relevant act was approved by the state customer. The balloon complex is recommended for use in mass production and serial production.
said a company representative.
He did not disclose the characteristics of the complex, citing the confidentiality of information.
According to the newspaper, referring to the Ministry of Defense, balloon repeaters are planned to be used in army communications brigades to transmit large amounts of information; their high mobility will allow you to quickly organize high-speed communications.
"A device with a volume of about 3 thousand cubic meters will be able to lift equipment weighing 3,5 kg to a height of 300 km. The device is capable of continuously working at a height of up to a crescent without recharging gas on the ground. The complex can be used, for example, to organize ultra-long-distance radio communications and provide over-the-horizon radar. In combination with other means of communication, the novelty can be used to coordinate the military
aviation
", - says the material.
Distinguished military pilot Major General Vladimir Popov called the use of balloons and airships as air communication centers and rebroadcast very relevant.
First of all, this is due to savings. Balloon systems can be quickly prepared for operation at the right time in the right place. For example, during a military operation, performing emergency combat missions or operational tactical exercises,
he said.
According to Popov, the need to build in advance a system of ground stations with large antennas leads to the unmasking of troops: "the enemy receives a warning about the operation being prepared."
The assembled balloon and its standard equipment can be transported by an all-terrain vehicle or a transport helicopter and quickly prepared for operation.
Such a repeater will be able to transmit online data of the operational situation online or bring the command staffs to the troops on the battlefield. This will improve the controllability of troops and the secrecy of operations,
explained the general.