25 civilians from the Deir ez-Zor and Hasak provinces were killed by the air forces of the Western coalition, the Hama-Aleppo highway was opened, reports
FAN
with reference to Syrian sources.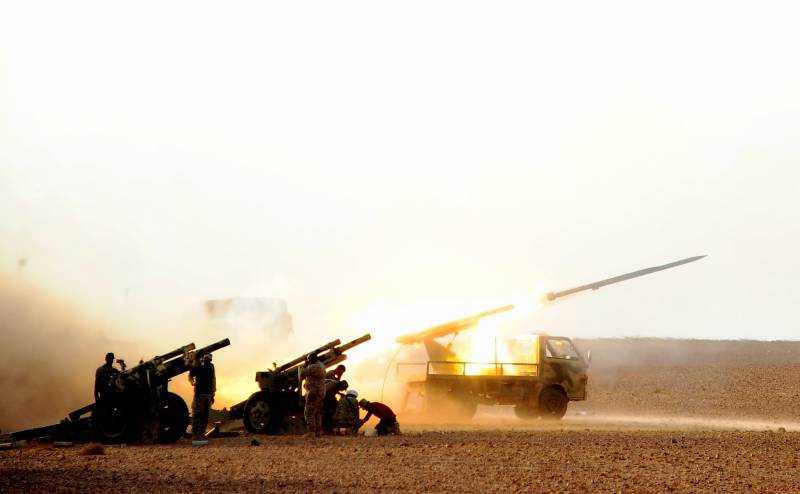 The Syrian capital has undergone new attacks by the radicals. Militants fired missiles in the Al Khal area. As a result of the shelling by illegal formations, several civilians in Damascus were injured. Intense firefights between the Syrian Arab Army (CAA) and the armed opposition were observed on the territory of the East Guta oasis. Government forces attacked the fortifications of a radical group in the vicinity of Jobar. The CAA established control over the height of Tell al-Sauad in the southwest of Damascus province.
The Syrian army conducted artillery shelling of the zones of deployment of radical armed formations in the area of ​​the fork of the Khanaser-Aleppo road. Also, the artillery attacked the fortifications of militants on the highway leading to the airport Abu Zuhur. A military source later said that government forces were shelling fortified militants in the vicinity of the settlements of Atshan ash-Sharqiyah and Abu Royal in the south of Aleppo province.
In the province of Deir-ez-Zor, the operation continued on the release from the IG (Group is prohibited in the Russian Federation) of the city of Abu Kemal, located on the border with Iraq. The Syrian Arab Army (CAA) with the support of the allies is fighting with the Islamists. From the air, the operation is supported by the Syrian Air Force and the Russian Aerospace Force. Military sources wrote that the leaders of the IG are trying to evacuate as many militants as possible into Iraqi territory. Meanwhile, the Western coalition air forces, which provide air support to the Syrian Democratic Forces (SDF), attacked Douiji village. The bombing killed 10 civilians. As a result of a suicide attack on SDF positions, 15 fighters of the Kurdish militia were killed.
The leaders of the IG announced the creation of a new brigade called "Al Sarim Al Battar. The Islamists, who managed to evacuate from Deir-ez-Zor and Iraq, entered the new IS-controlled formation. The total number of groups, according to sources, reaches 1500 militants.
The Syrian Arab Army (SAA), with the support of the Russian Aerospace Forces, continued to advance in the northeast of the Hama province, beating out terrorists from the Jebhat al-Nusra (grouping is prohibited in the Russian Federation) settlements. Government forces liberated the settlement of Abu al-Ghar from militants. In turn, the Russian
aviation
inflicted a series of attacks on the fortified areas of the Islamists in the vicinity of Qasr ibn Vardan. In the north of the region, SAR army artillery continued to shell militant positions in the area of ​​the city of Al-Latamina. Also, sources report the resumption of the route connecting the provinces of Hama and Aleppo.
Western coalition air forces launched a series of attacks on the Tel al-Shair area of ​​Hasaka. As a result of an airstrike, 15 civilians were killed.