For the past day, the Kiev security forces fired around the Donetsk Republic about 300 mines and shells, reports
RIA News
message of the representative of the DPR at the Joint Center for Control and Coordination of the Ceasefire.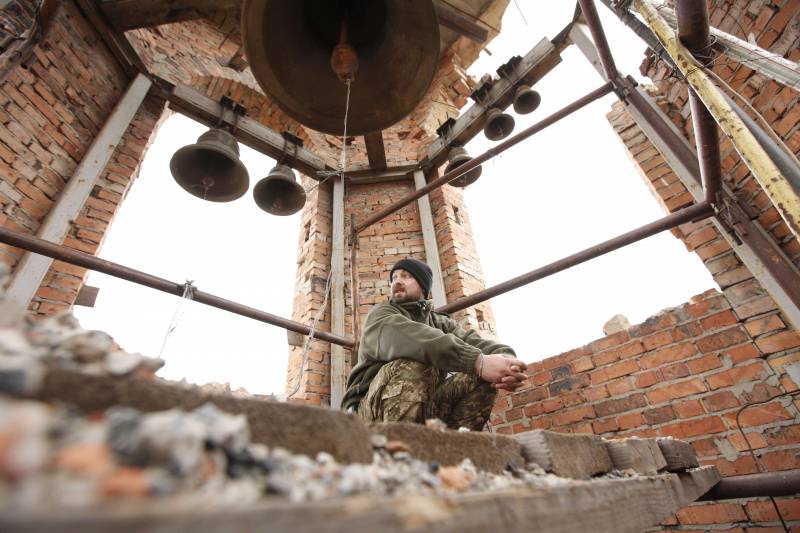 Ukrainian observer
Mariupol direction: howitzer caliber 152 millimeter used once, six shells fired, mortars caliber 120 millimeters - five times, released 39 min, caliber 82 millimeter - four times, released 48 min,
told the representative of the republic.
According to him, more than 30 times were fired from mortars at the APU Donetsk direction, "about 200 mines were fired on the territory of the republic, and shelling was also fired from grenade launchers, armored vehicles and small arms
weapons
».
The total number of used ammunition APU - 1395 units,
added the representative of the DNI.
In turn, the press service of the People's Militia of the Lugansk Republic reported 11 shelling.
During the day, the Ukrainian security forces 11 once violated the cease-fire by using 120 and 82 caliber millimeters, grenade launchers, infantry fighting vehicles, large-caliber machine guns and small arms,
stated in the military department.
According to the interlocutor, "areas of settlements Logvinovo, Zhelobok, Kalinovo, Dolgoye, Pervomaisk, Kalinovka, Frunze, Sokolniki were subjected to shelling."
According to preliminary data, there are no injuries among the civilian population and military personnel,
added on.
Meanwhile, the headquarters of the ATO reported 18-t violations of the ceasefire by the militia in the Donbass.
As a result of the fighting, one Ukrainian soldier was wounded.
says the release of the Ukrainian headquarters.
In the Armed Forces of Ukraine, they claim that "in the Luhansk area, near the settlements of Lugansk, Mayorskaya and Novolugansky, grenade launchers and machine guns were used, and fire was fired at the strongholds of the Ukrainian security forces near Popasna, Maysky and Katerynovka.