Despite the fact that "heavy" sanctions were imposed against Moscow, it is necessary to cooperate with it, the friendship of Russia and the United States will benefit the whole world.
RIA News
statement by American leader Donald Trump.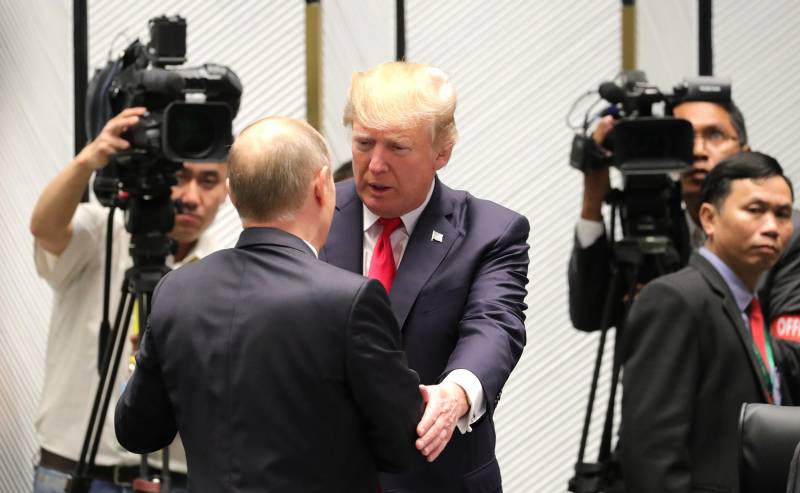 Very heavy sanctions were imposed against Russia. Against them imposed sanctions at a very high level. This happened quite recently. It is time to heal a shocked and broken world,
said the president in Hanoi at a joint press conference with the president of Vietnam.
I believe that if Russia takes a friendly position instead of (all of us) fighting with them, it will be an acquisition for the whole world, and also an acquisition, and not a disadvantage, for our country,
added on.
Earlier, Trump said that he had several short conversations with Putin at the summit, and they had good impressions of each other.
Also, the US president said that he was trying very hard to make friends with the head of the DPRK, Kim Jong-un, and expressed the hope that someday he would succeed.
Why did Kim Jong Un decide to insult me ​​by calling me "old", whereas I would never call him "small and full"? I try so hard to be his friend - and maybe someday it will happen!
he tweeted.
Recall, speaking from the UN rostrum, Trump called the North Korean leader "a rocket man who performs a suicide mission." He said that if the DPRK would pose a threat to the United States, it would be destroyed.
In turn, Kim Jong-un called Trump's speech at the UN "crazy nonsense", and the president himself - "old marazmatik", promising "to take the toughest in
stories
countermeasures. "