The Bulgarian Foreign Ministry decided to express its opinion on the desecration of the monument to the Soviet Soldier-Liberator ("Alyosha") in Plovdiv. Recall that the monument to the Vandals inflicted Nazi symbols and anti-Semitic slogans. In the Russian Foreign Ministry, immediately after the publication of materials about the desecration of one of the symbols of the victory over Nazism during the Second World War, they demanded that the Bulgarian authorities investigate the crime committed by the unknown.
The Bulgarian Ministry of Foreign Affairs stated that it condemned the incident with the monument in Plovdiv:
The Ministry of Foreign Affairs strongly condemns another act of vandalism committed against the Alyosha monument in Plovdiv, which used Nazi symbolism and anti-Semitic slogans.

Such manifestations are completely unacceptable and contradict the traditional tolerance and tolerance of the Bulgarian society, as well as the obligations of the EU and international organizations to combat racism, xenophobia and hate crimes.

We hope that the competent authorities will uncover the perpetrators and bring them to justice.
It is noteworthy that the inscriptions on the monument were made in Russian.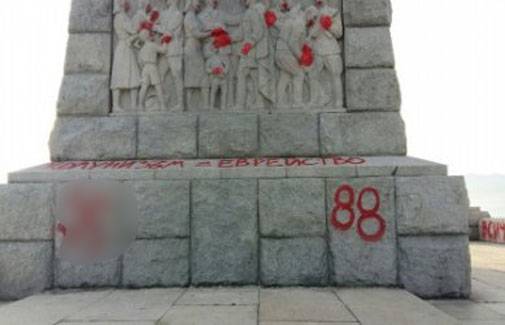 Unfortunately, the desecration of monuments to Soviet soldiers-liberators for some European countries is almost the norm. Among those countries where monuments are struggling at the state level - for example, Poland.