Ukraine agreed with the United States the main parameters of the joint draft resolution on the peacekeeping mission in the Donbass, said Ukrainian Foreign Minister Pavel Klimkin on the Inter TV channel.
A few hours ago I spoke with Kurt Walker, the US Special Representative for Ukraine, we agreed on the main parameters of our position, we actually have the text of the resolution, our draft. I mean ours, because it is the USA, and Germany, and France, and we work with the UK with very clear logic.
Said the Minister.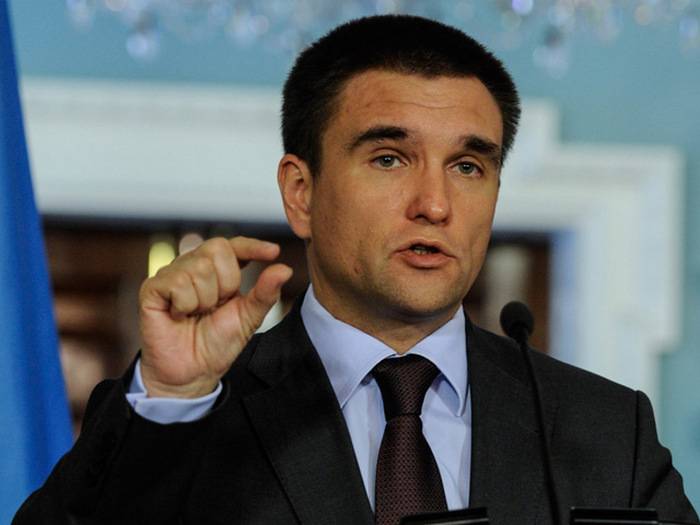 Klimkin also reiterated the position of the Ukrainian leadership, which opposes participation in the mission of the Russian military and insists on the deployment of peacekeepers on the part of the Russian-Ukrainian border beyond the control of Kiev.
On Thursday, The Wall Street Journal reported that Washington intends to soon offer Russia a plan to deploy in the east of Ukraine a contingent of international peacekeepers numbering 20 thousand people. As the publication noted, American and other Western diplomats believe that this mission can operate under the auspices of the OSCE, and not the UN.
Earlier, the representative office of the Russian Federation at the UN, on behalf of Russian President Vladimir Putin, sent a draft resolution on the deployment of a UN mission to ensure the safety of the staff of the OSCE Special Monitoring Mission on the contact line in Donbas to the UN Secretary General and Chairman of the International Security Council. Putin stressed that the deployment of the UN contingent is possible only after the withdrawal of weapons and with the consent of the proclaimed Luhansk and Donetsk people's republics.
Immediately after this, Kiev declared that the format of the mission in Donbass, proposed by the President of the Russian Federation, does not suit Ukraine, which insists on deploying "peacekeeping forces" on the Russian-Ukrainian border, reports TASS