The solemn opening ceremony of the bust of Marshal of the Soviet Union Ivan Bagramyan took place in the Victory Museum in Moscow on the eve of the day. The ceremony was attended by officials from the Republic of Armenia. The delegation was headed by Armenian Defense Minister Vigo Sargsyan.
The bust of the famous marshal was created by Armenian sculptors Misak Melkonyan and Ashot Tetevosyan. The unofficial title of this work is "Our Favorite Marshal".
The opening of the bust in the museum on Poklonnaya Hill is timed to the 120 anniversary of the birth of Ivan (Hovhannes) Khristoforovich Bagramyan. He was born on November 20 (December 2) 1897 of the year in the village of Chardakhly, Elizavetpol Province (Russian Empire).
At the ceremony, the Armenian Defense Minister expressed his gratitude to Russia for the installation of the bust of the commander who made a huge contribution to the defeat of the Nazis during the Great Patriotic War.
From the statement made by Vig Sargsyan:
It is a great honor for us to be in this museum and to bring as a gift from the Republic of Armenia a bust of Marshal of the Soviet Union Ivan Khristoforovich Baghramian.
In turn, the Russian representative of the Moscow Region, Alexander Fomin, noted that such events demonstrate truly friendly relations between our countries and talk about common
historical
roots.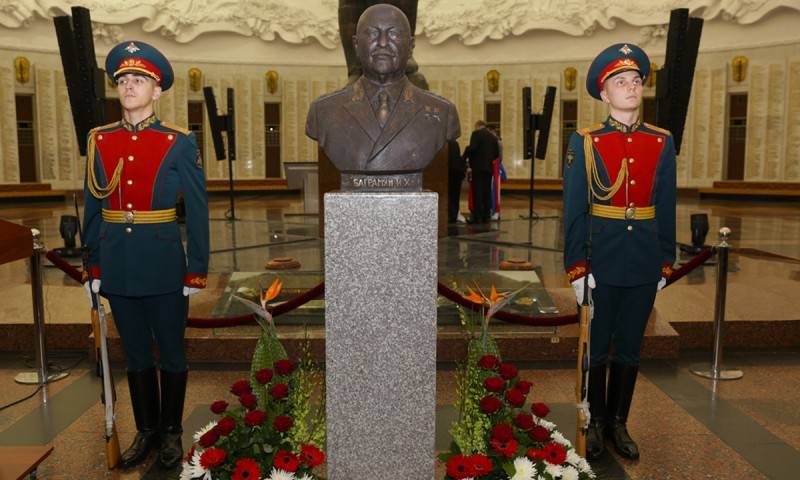 From the statement that publishes official
broker
Main Defense Ministry of the Russian Federation:
The memory of the great Soviet commanders is, on the one hand, a tribute to the veterans who won the Great Patriotic War, and on the other hand, the opportunity to tell the young generation about their exploits. On behalf of all of us, the Ministry of Defense of the Russian Federation and Russia, I would like to thank the Ministry of Defense of Armenia, the Minister of Defense of Armenia for this initiative and the museum for supporting it. This is a great marshal, a great commander, his merits are immortal.