Some kind of completely idiotic situation. I had a thousand opportunities to see a person alive, to listen to him alive, to argue with a living ... I had, but I always found the reasons why I had no time to go to a concert or a meeting on that particular day. Once I could even talk to him ... And I did not go ...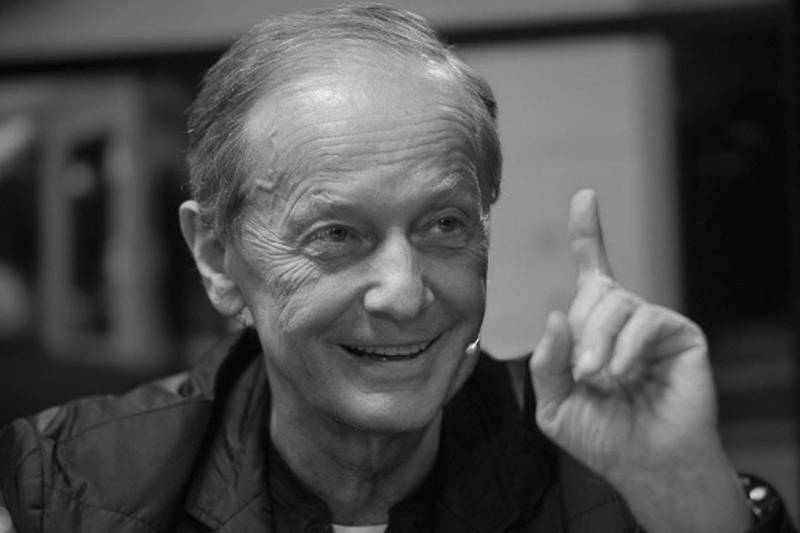 A conscientious person died ... He never called himself that. Even the definition of this, probably did not know. He just told us about how he feels. He was not afraid to tell us what he feels. He was one of us. Moderately hero, moderately a coward, moderately slobber, moderately statist ... He just was.
We said goodbye to Mikhail Zadornov. What is there talking about him? Satirist? Writer? Scientist? May be. Let the learned men speak of this. Let them write a dissertation. Let them publish monographs. Man, if he is a man, always goes to
history
. Well, let the historians analyze his life, creativity, views and everything else.
Probably now some readers will think about why the death of the writer, there is no Writer, so interested in such a specialized edition, like the Military Review. A writer died, not a soldier or officer ...
You are mistaken! The soldier is gone! A soldier who for many years was at the very front! In the thick of the "mess" called life. Straight as a bayonet. Even a little reckless. Not knowing or forgetting the word "afraid." No, probably like all normal people, he was afraid. Afraid and .. not afraid. Those who heard the bullets fly away, understand me ...
Honestly, I do not want to dig into the life alleys of a soldier. The soldier does not have these very back streets. There is life and death. Death is heroic or not so, but this is the death of a soldier.
For me, Mikhail Zadornov in recent years has truly become the conscience of the country. Calmly and with humor talking about our most serious problems. Similarly, without "tolerance" and "respect for national feelings" about the problems of our former brothers abroad and enemies overseas.
Zadornov for many became a man who "put all the dots on I". Remember the already classic- "They are morons ...". And the ingenious- "Ukraine will go down in history as a people who decided that they did not want to live poorly, and began to live even worse." But such. "It seems to me that our entire army must be put into combat immediately. Responding to the provocative shelling from the Ukrainian side on Russian soil. At one time on the island of Damanskoye, the Chinese also organized such provocations, and then one of the local officers gave the command to cover all rocket complex several kilometers away from the Russian border. The Chinese never went there again! The officer was removed from his post, but he was rewarded. "
There are a lot of officers in the "Military Review" team. Moreover, officers of different ages, different armies, even different countries. It happened. He died the USSR, but we are alive. The Warsaw Pact died, but we are alive.
Sometimes, because of their harshness and even cruelty, Mikhail Zadornov's speeches were seriously "catchy" for us. For the most painful point. For a causal place. He beat at the very breaths ... But then, having cooled down a little, we understood that he was right. And he beat the patient simply because he tried to wake the men in us ...
Honestly, never made speeches on graves. He did not even speak at the grave of his own mother and father. I did not speak on the graves of my friends ... Probably I would not have said it at the grave of Mikhail Zadornov. And today I wrote ... I wrote on behalf of all those who saw the new Russia in the works of Zadornov. New life.
Often, after many years, we remember about some things that could be milestones in our lives. For example, I recall a meeting with Vladimir Vysotsky, whom I simply did not recognize. More precisely did not know. I did not see his photo then ... He knew the song, but did not know Vysotsky. Although sometimes there is such a sin, I beat myself with a heel in the chest - I know him ...
The epoch gave us to live next to the Man. I do not know great or simple. History will show. But today, on behalf of the Military Outlook, on behalf of all our readers, I will take the responsibility and the honor to say thanks to Mikhail Zadornov that he lived ... He lived nearby. Breathed nearby. I wrote next.
Soldiers don't just die like that. The apostle Peter, as they say, does not even ask the soldiers about the sins. Just opens the door to heaven and everything. Go soldier. Deserved ...