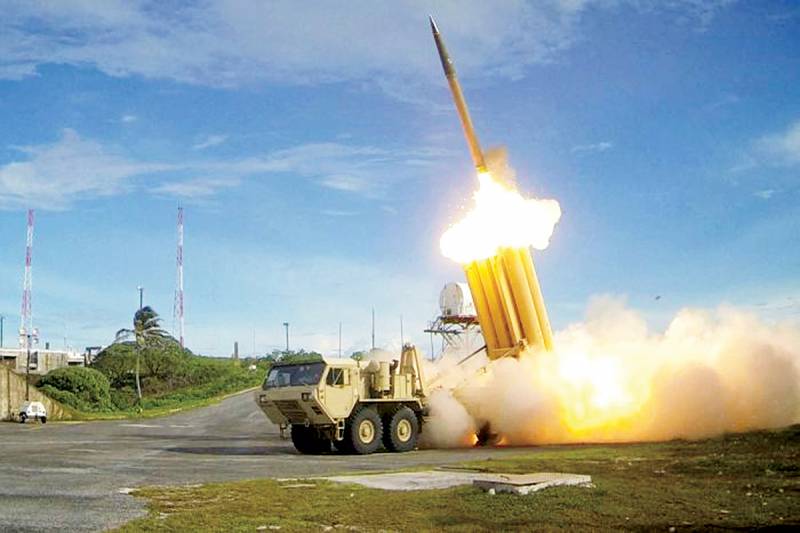 Launch of the first of two interceptor missiles of the THAAD (Terminal High Altitude Area Defense) missile defense system during interception testing. During these tests, conducted by the Missile Defense Agency, the ABM Command Command and the Second Anti-Aircraft Artillery Regiment, the THAAD complex successfully intercepted a medium-range ballistic missile. These launches demonstrated the ability of the Aegis BMD and THAAD missile defense systems to work together as a single, layered defense system and to shoot down simultaneously launched ballistic missiles.
Forward to an agreed solution?
Proven by many tests to disrupt ballistic missile attacks, no seamless defense can currently be 100 percent effective, since there are serious gaps, be it a maneuvering ICBM that successfully penetrates a well-defended and integrated air defense system, or a bold and fanatical attack on advanced base, or the terrorist attacks on unarmed civilians in the street that are widespread today, for which only motivated and well-trained police forces are required.
A modern ground-based integrated air defense system (GIADS Ground-based Integrated Air Defense System) must rely on three main components:
1. a functionally complete network of radar detection and control of long-range and medium-range airspace;
2. an integrated operational management system or better operational management, communications and intelligence, and even better, an automated management system;
3. network of small-range, medium-range and long-range anti-aircraft missiles.
In order to be efficient and responsive, GIADS must have all of the above components in constant alert. But with the exception of several crisis zones, such as Israel, Korea, Syria or Taiwan, this is quite rare to be, because it is very expensive to keep combat anti-aircraft batteries, equipped with calculations and ready for combat start-up at any moment. Although modern solid-propellant rocket engines are sufficiently developed and work stably, the complete rocket is kept ready for launch in an airtight container.
The largest in its class air command and control system ACCS (Air Command and Control System), developed by the French-American company Thales Raytheon Systems (TRS) for NATO, has been shipped to many countries. Its flexible automated control systems can adapt to changing operational needs, and seamless planning, task setting, monitoring, and control allow various types of air defense and missile defense operations. The Skyview system of the same company is an example of an automated control and management solution featuring an open architecture. It provides a single comprehensive picture of the air situation and general situational awareness through scalable, capable of extensive interaction of command and control systems. With its built-in "connect and act" feature, this command and control system allows users to optimize their existing systems. It also allows operators to track all airborne objects in real time so that the respective weapon systems can guarantee a threat. It also provides commensurate with appropriate opportunities, providing round-the-clock protection of the protected area, territory or country against all air threats. The system coordinates all networked air defense systems, for example, ultra-small, short, medium and long range.
At the recent Paris air show, MBDA introduced network-centric interception solutions for NCES (Network-Centric Engagement Solutions), a modern ground-based air defense architecture based on the latest real-time data exchange protocols. The system allows you to combine, in addition to various ground-to-air missile systems, various military and civilian radar stations, making it possible to make accurate and timely decisions in real time. Currently undergoing comprehensive testing of the NCES system, which is significantly different from previous air defense organization schemes, with a view to delivering it in the near future to one of the NATO countries.
"In this solution, the sensors are networked in order to obtain the best level of airspace, while missile launchers of ultra-small, short and medium range, as well as coordination and launch control centers are integrated into a single network in order to obtain a more efficient system defense. The organization of such a system can be implemented both at the local level and at the level of national defense. MBDA can supply all the necessary tools, sensors, communications, focal points, launchers and can also organize integration with previous air defense systems, "a representative of MBDA explained.
Compared with the traditional organization of air defense, a very multi-level network of various resources allows for significant operational flexibility and very high fault tolerance. With the NCES system, the organization of ground defense is no longer limited to the concept of anti-aircraft battery, which is based around full-time radar and command and control system. Networked executive components or launchers receive target data immediately. Similarly, the connection of each sensor system to the network contributes to an increase in the level of control of the air situation. If the command and control center is lost, the missile and the corresponding sensory equipment are immediately transmitted to the other center via the network without any reduction in alertness. This allows the NCES structure to adapt to a wide range of organizations, from mobile batteries to territorial defense systems. It is also possible to easily integrate existing air defense systems through a gateway that converts conventional battery exchange data with the lower or upper echelons of ground defense into an acceptable format.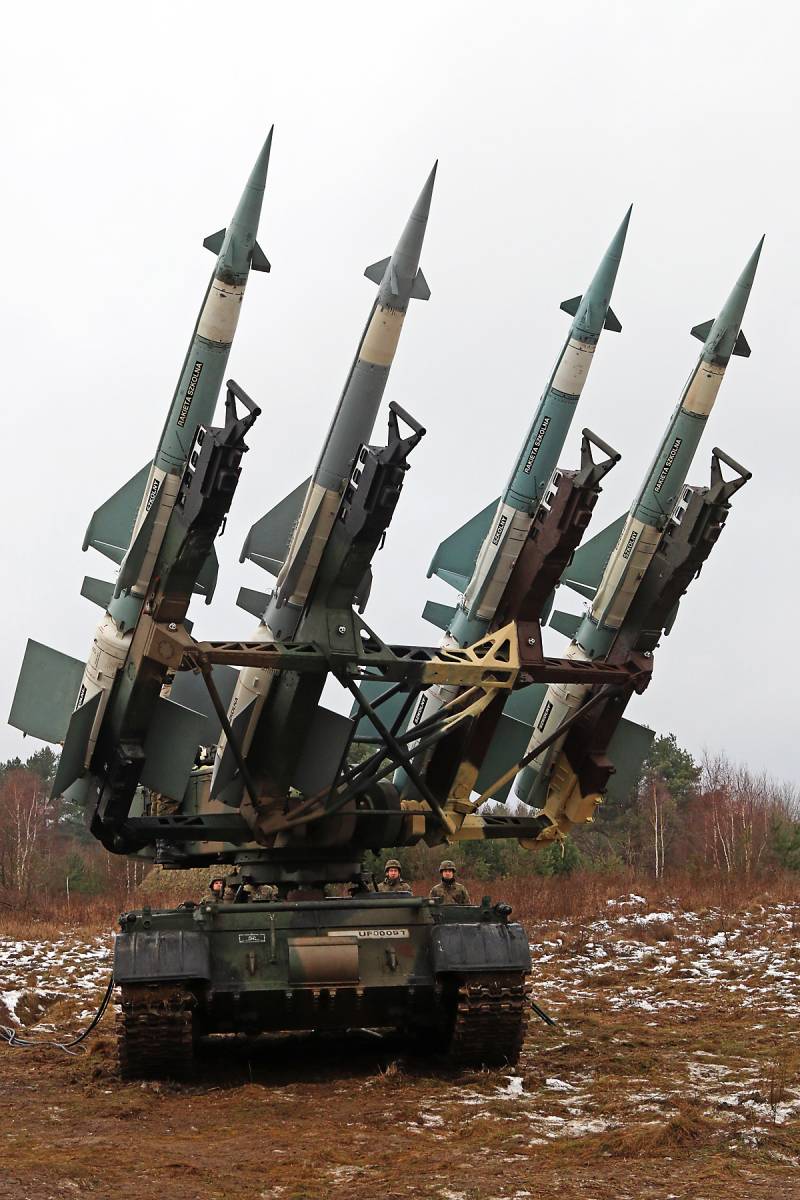 Soldiers from the anti-aircraft division of the Polish army demonstrate the driving performance of the W125 launcher (also known as the Pechora Russian C-125) during an exercise to test its readiness for deployment in January in Poland. The Polish and American military conducted a comparison of their missile systems. The Pechora C-125 system is more or less equivalent to the upgraded HAWK complex, still in service with some NATO countries.
Romanian Air Force troops demonstrate the capabilities of the HAWK anti-aircraft complex to American soldiers from the 7 anti-aircraft artillery regiment during the Patriot Shock exercise, which took place in November 2016 in Romania. These exercises are conducted regularly to test readiness for deployment and interaction with the Patriot missile systems of the US Army
Kingdom of the Patriot
One of the most famous anti-aircraft missile systems in the world, the Patriot, gained fame during the Gulf War 1991 of the year, in which it was used to protect coalition forces and Israeli cities from the Scud-Bi missiles R-17, the terrible dictator Saddam Hussein. Although praised at that time to the skies, the true percentage of defeats on the targets of the Patriot complex was calculated in single digits. The lessons were taken into account. Since then, Patriot has been improving almost continuously and as a result is now considered a highly developed missile system capable of intercepting highly manoeuvrable targets.
The Patriot complex, originally developed only to fight aircraft, is currently capable of shooting down helicopters, cruise and ballistic missiles and drones. In the case of ballistic missiles, Patriot is used to intercept combat units at the final stage of their reduction. In the development of the Patriot system, two types of missiles were developed. In order to cover the entire spectrum of threats, the Patriot launcher can launch both missiles. The PAC-2 / GEM is capable of shooting down aircraft, cruise missiles and, to a lesser extent, tactical ballistic missiles. They are four pieces per launcher. The PAC-2 / GEM has an intercept range of 70 km with a maximum altitude of a target of 25 km. The new PAC-3 MSE rocket is intended only for intercepting ballistic missiles. The PAC-3 MSE missile is smaller in size and therefore you can install up to 16 missiles on the launcher, four launch containers of four missiles each. The missile has an intercept range of up to 35 km and a maximum height of hitting the target 34 km.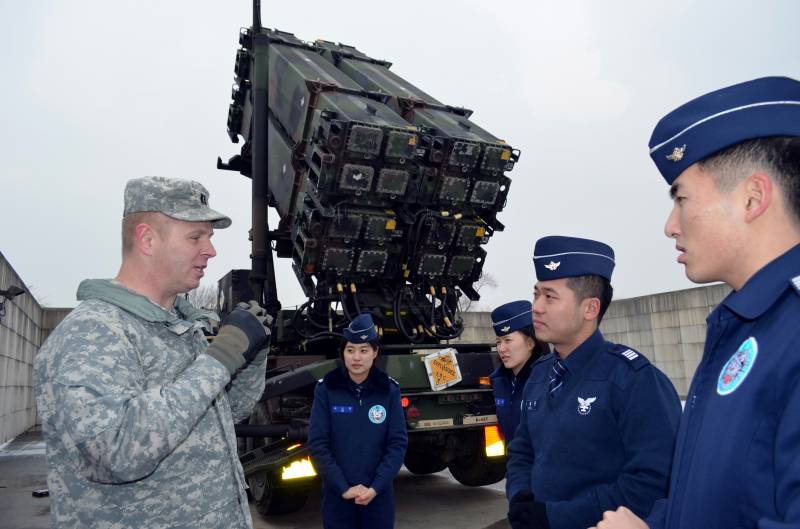 During a visit to the 2014 year of the South Korean Air Force Defense School, an officer from the 35 American Air Defense Brigade tells the cadets about the Patriot missile system. Nearly 100 cadets took part in an excursion to learn more about the Patriot missile and the air defense of the US Army. MIM-104 Patriot is the main anti-aircraft missile system of the American army and several allied countries. It is produced by the American company Raytheon, and it owes its name to its radar component
The development of the Patriot system took place in the 70s and 80s, at a time when the battlefield missile defense was not seriously discussed, and therefore it was intended solely for the interception of aircraft and helicopters. Over time, Patriot, however, proved surprisingly adaptable and was chosen by many NATO armies and US allies. Currently, on the basis of the Patriot philosophy, a program is being implemented on a wide-front medium-range air defense system MEADS (Medium Extended Air Defense System) with the aim of replacing Patriot systems in the United States, Germany and Italy. The MEADS complex, being a competitor to the MBDA SAMP / T complex, currently deployed in air defense regiments in France and Italy, is designed to combat enemy
aviation
, cruise missiles and drones, but at the same time he is capable of shooting down ballistic missiles with high accuracy. The MEADS complex also has an increased level of mobility and better compatibility with other existing air defense systems. From the very beginning, it was designed to deal with promising enemy aircraft of the next generations, as well as supersonic cruise missiles, UAVs and even ballistic missiles. The complex will include its own radar kit along with network communication systems, which will allow it to be operated either as a separate system or as a component of larger air defense systems with missiles of various types.
The basic vehicles of the American MEADS program will be the American FMTV 6x6 trucks. These trucks, capable of accommodating in the cargo cabins of the C-130 or C-17 military transport aircraft, will carry radar, a tactical container-type operational center, a launcher and a set of additional missiles. The MEADS complex has already been tested for the possibility of transportation by A400M aircraft. For testing, Italy and Germany chose trucks of their national brands (Iveco or MAN), while the Germans are likely to lean toward a larger cargo platform. The tactical complex MEADS is designed to protect troops advanced into the advanced area, as well as objects and areas in the context of national and collective defense. The system, equipped with a full-range radar, control point with the latest technology and missiles direct hit, can shoot down all air targets, including cruise and tactical ballistic missiles.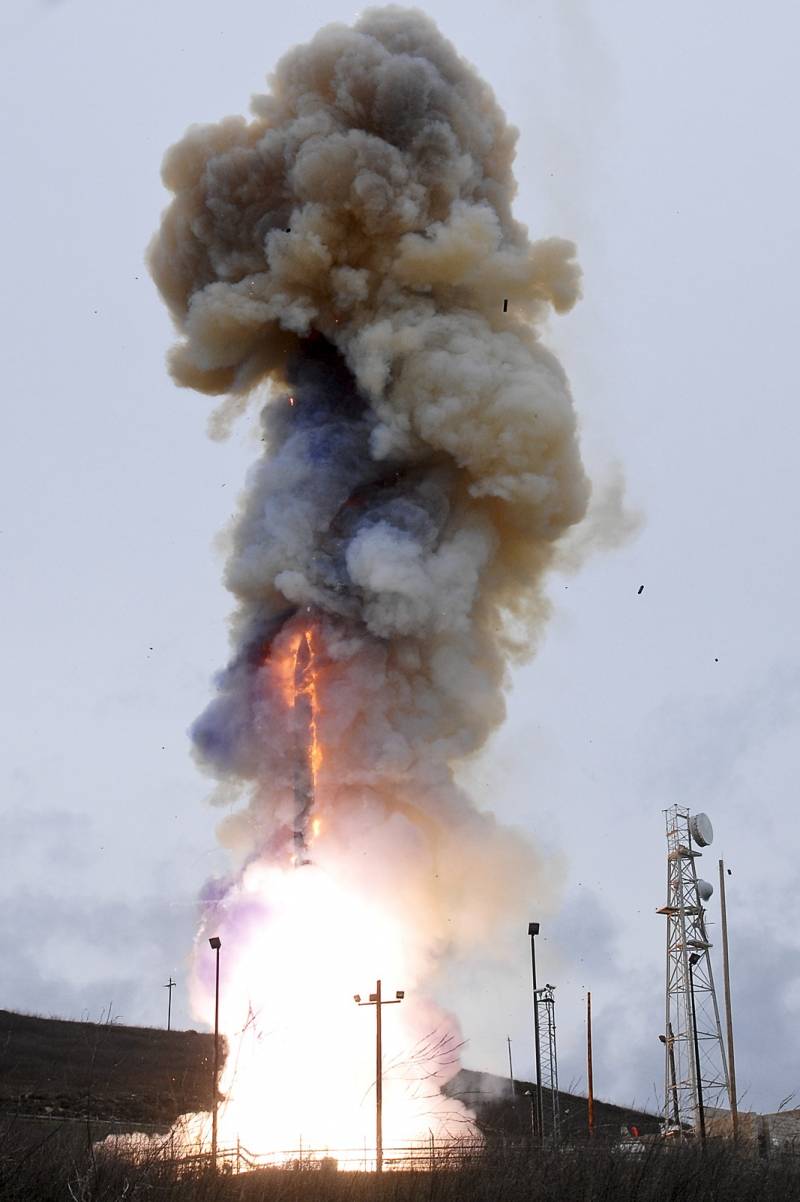 During the test launches conducted in the 2012 year, the American missile defense system Ballistic Missile Defense System was able to destroy five targets simultaneously. In the photo, the Patriot Advanced Capability 3 interceptor (PAC-3) is launched from one of the Marshall Islands.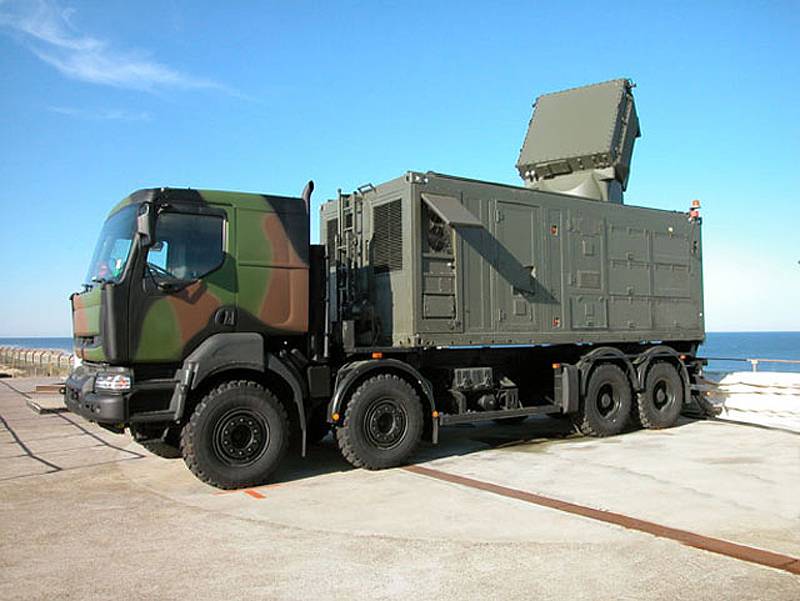 Thales Arabel Radar is part of the SAMP / T standard battery. In order to meet the most demanding requirements, Thales, under the FSAF program implemented by the Eurosam consortium, developed the Arabel Fire Control Unit (FCU) fire control center - the heart of the SAMP / T medium-range complex. Integrated with six vertical launch modules (Aster 48 30 missiles), it provides powerful operational capabilities against all current and future air threats. A fire control station built into the ballistic missile defense system (including early warning radar and command and control system) ensures protection of the local area against all existing ballistic missiles.
PAAMS and its European counterparts
The PAAMS program (Principal Anti-Air Missile System), launched by 16 years ago, provided for the development and production of the main weapon system for the new generation of destroyers and air defense frigates. The system is aimed at a high level of unification and standardization and uses Aster 15 and Aster 30 rocket as striking components. The system is designed primarily for British destroyers T45 (there they are named Sea Viper) and the French and Italian frigates Horizon / Orizzorrte, as well as the latest FREMM frigates, although they are not directly included in the PAAMS air defense system. PAAMS is a very powerful integrated air defense system of fleets of three countries: France, Italy and the UK. Now this system is well known from numerous and detailed descriptions. This air defense system developed by major European manufacturers (MBDA, TAD, Leonardo and BAE), united in the EUROPAAMS consortium, is capable of performing three tasks simultaneously: self-defense of the frigate / destroyer, air defense of the local zone of the group of ships and air defense of the medium range of the ship group. From a technical point of view, the PAAMS system has many common components with FSAF systems (Famille de Systemes Anti-Aeriens Futurs - a family of promising surface-to-air missiles) developed by MBDA. In particular, the Aster 30 rocket is also the main armament of the SAMP / T complex (Sol-Air Moyenne Portee / Terrestre - an anti-aircraft missile system with medium-range ground-to-air missiles) along with an X-band Arabel detection and tracking radar.
The Eurosam consortium's air defense systems are based on a modular principle, special modules or "building blocks" can be combined in different combinations to fine tune each system. The basic system consists of one multi-functional radar system, a command and control point with Maga's computers and Magics operators' workstations and a vertical start installation. Additional subsystems may be added in order to optimize the capabilities of the basic system and perform special tasks, for example, defense of the expanded zone and or the fight against ballistic missiles.
The Norwegian company Kongsberg in collaboration with Raytheon offers one of the most modern and flexible medium-range air defense systems in the world. The NASAMS anti-aircraft missile system (AIM-120 AMRAAM ground-to-air missile air-launched version of the ground launch) is based mainly on the Patriot and HAWK XXI missile systems. The Norwegian Air Force was the first customer in the NASAMS (Norwegian Advanced Surface-to-Air Missile System) program. NASAMS complexes very successfully showed themselves during the NATO exercises with combat launches. It is currently reserved by the Norwegian Air Force for deployment in international crisis management operations. Finally, the Australian government announced in April 2017 that the NASAMS 2 system (now coded as the National Advanced Surface-to-Air Missile System) will be deployed as part of the Land 19 Phase 7B project to create an air defense and missile defense system for the Australian army. Today, a mobile air defense system NASAMS is in service with seven countries, including Norway and the United States (a small number of complexes are used for Washington air defense). October 26 2017 was signed with the Lithuanian Ministry of Defense for the supply of two NASAMS 2 SAM batteries.
The Danish company Terma offers an open and flexible architecture of an integrated air defense system, which allows the integration of new and existing sensor and actuating systems in a modular fashion, as well as the replacement of individual launchers and subsystems into a single integrated and consistent system. By putting the automated system of command, control and provision of information ACCIS-Flex in one of the European countries, Terma thereby added a new user to its core T-SOG software platform. This open and flexible future solution allows the use of existing and new sensors and actuators from various manufacturers, including the ability to easily add or replace sensors and actuators, while idle by adding or replacing software interface components. With the T-Core modular software platform, Terma offers a complete set of operational management that meets these requirements. For more than 30 years, Terma has been providing tactical operational control and communications systems to the armed forces and civilian air traffic control services.
Swedish anti-aircraft missile system RBS-23 BAMSE
Sweden, in turn, also developed a specialized integrated air defense system BAMSE SRSAM. The main idea of ​​the BAMSE SRSAM complex is to optimize the impact of the system through several coordinated launchers that collectively cover an area of ​​more than 2100 km2. The RBS-23 BAMSE anti-aircraft missile system includes a powerful Giraffe AMB surveillance radar operating as a radar and as a command and control system, an MSS launch control system and a launcher with six missiles ready for launch. The BAMSE complex has a simple and friendly interface, which allows reducing its calculation to a minimum.
In short, today there is no effective integrated air defense without its own specialized computers that command everyone! Perhaps an elegant way to defeat a complex and powerful layered antimissile shield would be ... cyber warfare? Another victory of the human mind over brute muscular strength?
The first part of the article:
Modern integrated air defense systems: is it possible to completely reliable air defense? Part of 1
Materials used:
www.shephardmedia.com
www.raytheon.com
www.eurosam.com
www.mbda-systems.com
www.rafael.co.il
www.army.mil
www.saabgroup.com
www.kongsberg.com
www.wikipedia.org
en.wikipedia.org