Another terrorist attack occurred in Egypt today. Militants have chosen the Sinai Peninsula as the center of their activity. Recall that the positions of the Islamic State terrorist group are strong in Sinai (* prohibited in the Russian Federation). All efforts of local security forces to eliminate the terrorist threat are currently in vain.
This time, terrorists affiliated with ISIS (*) group Ansar Beit al-Mahdis (*) attacked a convoy of trucks coming from one of the factories located in the central part of the Sinai Peninsula. The attack was made from an ambush. As a result of the attack, at least 10 people, including troops, were killed. It is noted that among the dead - the officers. One of them is Colonel Ibrahim Hussein Mohammad.
Local media publish materials that say squall fire from grenade launchers and small
weapons
. As a result, seven trucks were completely burned. A military convoy simply did not have time to organize at least some resistance to terrorists. Weapons belonging to the convoy fell into the hands of the militants.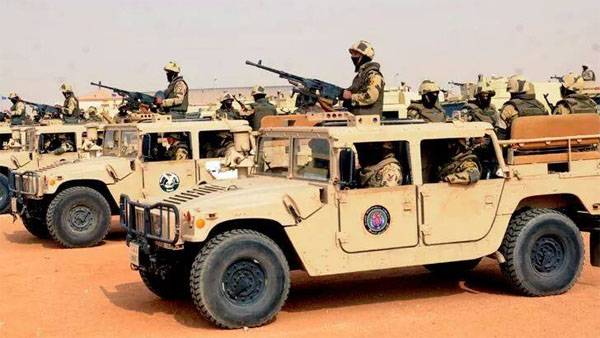 If you believe the official reports of the Ministry of Defense of Egypt, then cement was transported in trucks.
Recall that a few weeks ago, Egyptian army units attempted to destroy the core of the terrorist group in Sinai. To this end, several military units, including special forces, were deployed in the region. However, the operation suffered a fiasco, since the militants had received information about the advancement of the column even before it began. Dozens of Egyptian soldiers were killed in shelling by terrorists who set up an ambush similar to that of today.