Experts of the Russian Navy for the first time began to prepare divers for diving to 400 meters and more from an ocean vessel, reports
RIA News
a message from the head of the Navy search and rescue service, Damira Shaikhutdinov.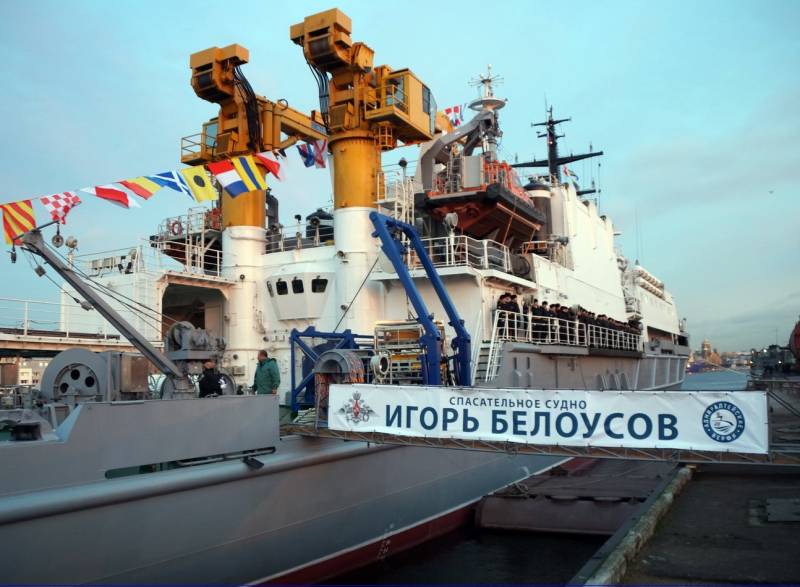 The Russian Navy's search and rescue service has begun preparing divers for diving to 400 meters and more from the board of the ocean rescue vessel Igor Belousov
said Shaikhutdinov.
According to him, "in the near future, the Commander-in-Chief of the Navy, Vladimir Korolev, will approve a detailed plan for this training." Diving divers to this depth can take place in the summer and autumn of 2018.
The officer also noted that the basis for this training will be "the successful experience of diving Navy divers to a depth of more than 300 meters from the board of Igor Belousov in the Pacific
navy
in October-November 2017. "
It is about the revival of the national school of aquanauts of the Navy. It is this qualification (aquanaut) that divers of the search and rescue services receive, having mastered the practice of working in conditions of prolonged stay and work underwater in practice,
he said.
Preparation for immersion is carried out in stages. According to Shaikhutdinov, "in 2016, diving descents were worked out on the same vessel by the method of short-term diving, and in 2017, divers learn descents by means of a long stay at a depth of 30 meters with access to the aquatic environment, and the final stage is diving to 300 meters."
He also explained that the fleet "Igor Belousov" (project 2015) adopted in 21300 year, successfully performs the tasks of search and rescue support as part of the Pacific Fleet. Considering that "Igor Belousov" is the first lifeguard of the new generation in the Navy, "its experience is being analyzed, and various areas for improving the ships of this project are being worked out."