Today in Russia is celebrated a holiday that historically is customarily called the Day of the Police. After the well-known reform implemented several years ago, both the police and the former name of the holiday officially ceased to exist. As a result, a construction with the rather cumbersome title "Day of the employee of the internal affairs bodies of the Russian Federation" appeared in the calendar of festive dates of law enforcement agencies of our country. However, the essence of the celebration of renaming has not changed.
In 2017, the holiday has its own anniversary. The fact is that he began to be celebrated as a professional since 1962 - 55 years ago - on the basis of a decree of the Presidium of the Supreme Soviet of the USSR. Date has
historical
a reference to November 10 (new style) in 1917 when the People's Commissar of Internal Affairs of the Soviet Republic Aleksey Rykov (future chairman of the Council of People's Commissars of the USSR) put his signature on the decree "On the Workers' Militia".
All law enforcement officers on this holiday congratulated the head of the Interior Ministry, Police General Vladimir Kolokoltsev:
I cordially congratulate you on the Day of the employee of the internal affairs bodies of the Russian Federation! It is a celebration of all who dedicated their lives to serving the people, the law and the Fatherland.

The profession of a policeman is one of the most important and necessary. Requirements for her never depended on time - it is always high responsibility, honesty and courage.

Today, the ministry personnel adequately respond to new criminal challenges and threats, fight against organized crime, terrorism and extremism, ensure the economic and migration security of the state.

Thanks to your effective work, the level of protection of citizens increases, and, as a result, the prestige of the department increases.

On this day, we pay tribute to our comrades who have died in the line of duty, bow our heads before their feat and cherish the bright memory of the heroes.

I express my sincere appreciation to the veterans for their support and assistance in the training, education and civil development of the young generation of law enforcement officers. Your experience, loyalty to duty and respect for tradition are invaluable to us.

I am confident that in the future the personnel will successfully accomplish the tasks assigned to the Ministry of Internal Affairs of Russia, by their work and high results will strengthen the confidence of compatriots.

I sincerely wish you and your families good health, happiness and well-being!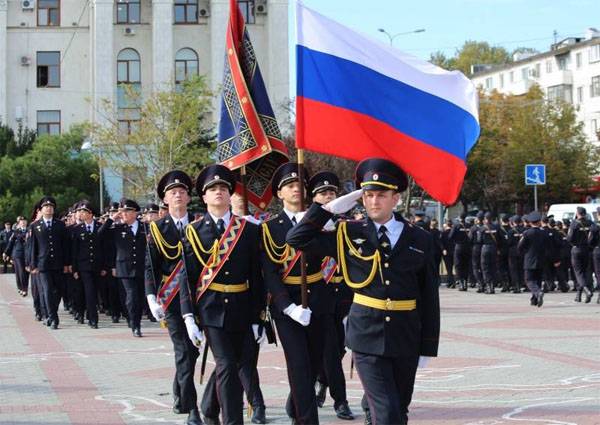 "Military Review" joins these words and for its part congratulates all employees and veterans of the internal affairs bodies of the Russian Federation and the USSR who stand guard over the rule of law and legality on their professional holiday!