The exercises of the American aircraft carrier strike groups (ACG) in the Western Pacific threaten to unleash a war against North Korea: the concentration of three ACGs means the readiness of the US naval forces to conduct military operations, the former commander of the Baltic
fleet
(2001-2006) Admiral Vladimir Valuev.
As the press service of the US Navy 7 fleet reported earlier on Thursday, three US carrier strike groups will conduct exercises in the Pacific Ocean on the Korean Peninsula from 11 to 14 in November; The aircraft carriers Ronald Reagan, Nimitz and Theodore Roosevelt will participate in them, around 20 cruisers, squadron destroyers and several nuclear submarines.
This is a direct threat of the outbreak of war against North Korea, and with clear advantages of the United States.
- declared Valuev.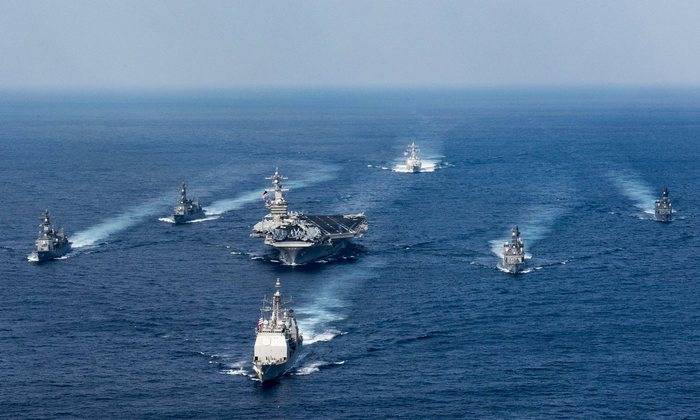 He explained that the carrier strike group, where one aircraft carrier, is the most powerful operational-tactical compound.
Operational strike connection, where several aircraft carriers - this is a huge power. Each aircraft carrier has 100 airplanes, of which 60% are drums that can be bombed along the coast, across the country
- clarified the Russian admiral.
According to him, against American AUG "you can effectively fight cruise missiles or nuclear submarines, which North Korea does not have."
Valuev noted that "around the carrier strike force is an anti-aircraft defense zone with a probability of 0,9 destroying enemy aircraft and cruise missiles; an anti-submarine defense zone" that the North Korean diesel-electric submarines will not be able to force.
Destroy this group under appropriate conditions before lifting the deck
aviation
. If North Korea had such cruise missiles as the Russian coast or ship-based Caliber, such an opportunity could be considered
Said the admiral.
Of course, they can hit the American AUG with ballistic missiles, but this is a nuclear conflict with all the ensuing consequences.
- Added Valuev.
Previous exercises involving the three US Navy carrier strike groups were held in 2006-2007 in the area of ​​the American island of Guam. The current maneuvers coincided with increased tensions around the DPRK, reports
RIA News