According to the portal defensenews.com, the Lithuanian Ministry of Defense requested the US military department L-ATV armored vehicles.
Oshkosh Defense L-ATV armored off-road cars began to enter service with the American army last year. L-ATV modifications for the U.S. Armed Forces received the name JLTV (Joint Light Tactical Vehicles), in the framework of the first stage of replacing HMMWV cars for the army, it is planned to purchase almost 17 000 new cars. The first importer of L-ATV machines will be the UK, which ordered the delivery in January of this year.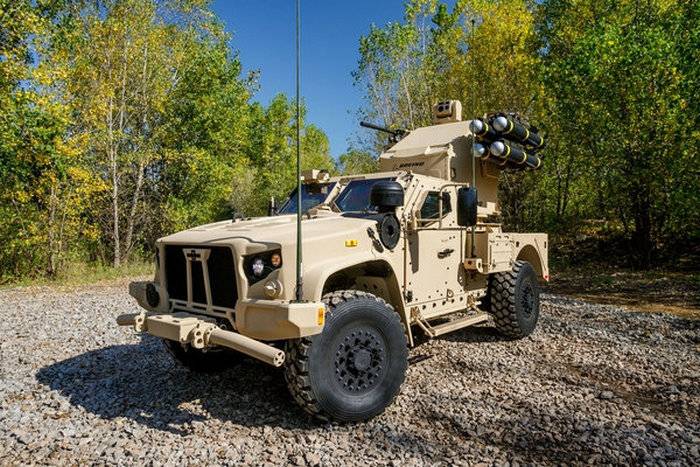 In total, for the needs of the Lithuanian army, it is planned to purchase about 200 L-ATV armored vehicles, the delivery of which is to begin in the 2021 year. According to Lithuanian Defense Minister Raimundas Karoblis, he has already discussed this issue with his American colleague James Mattis, and the parties have reached a preliminary agreement.
Oshkosh L-ATV - 6,4 t armored vehicle with adaptive suspension (maximum clearance - 51 cm). The machine is suitable for landing on parachute systems and transportation by air (including on external helicopter hangers) and is available in two- and four-seater versions. The car has a basic reservation that protects the crew from small fire
weapons
medium caliber, as well as mines and mines. If necessary, additional mounted armor can be installed on the vehicle.
The base engine L-ATV is a diesel engine with liter capacity 6,6 and liter capacity 300. with. As an option, cars can be equipped with diesel-electric hybrid systems that can power outdoor electrical equipment. The machine can be armed with an 7,62-mm machine gun M240, 40-mm automatic grenade launcher Mk19, anti-tank missile system TOW or any other compatible weapon installed on a remote-controlled module, transmits
"Warspot"