The shipbuilders of the Baltic Shipyard have recently completed the formation of the superstructure of the Arktika nuclear-powered icebreaker of the 22220 project, the company's press service reports.
After loading the main turbo generator (GTG) of the starboard, the last block of the superstructure above the engine room was mounted to order. Thus, one of the key stages of the completion of GUAL "Arktika" was completed afloat.
- Reported the press service.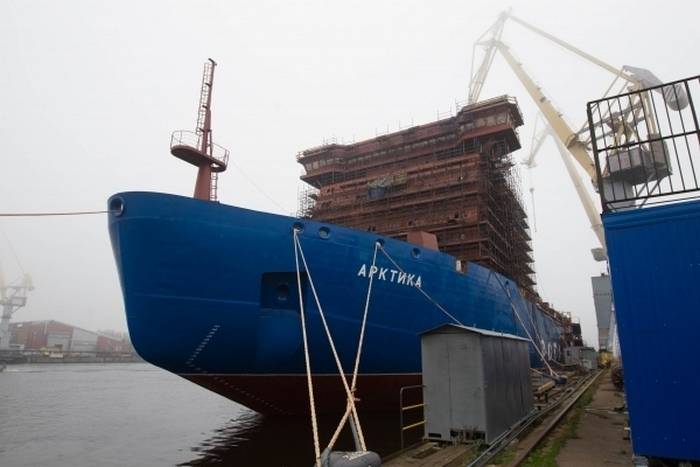 The next key stage of construction will be the completion of the formation of the protective shell of the central compartment of the icebreaker, where the nuclear reactor is located, as well as its tightness tests.
The construction of the nuclear-powered icebreaker "Arktika" of the 22220 project is proceeding according to the approved schedule, the agreed deadline for the delivery of the icebreaker is May 2019.
- added to the enterprise.
Recall that at present Baltiysky Shipbuilding Plant LLC is building a series of three nuclear icebreakers LC-60 with a capacity of 60 MW of the 22220 project (Arctic, Siberia and Ural) with delivery times of 2017-2020.
The main technical characteristics of vessels: power - 60 MW (on shafts), travel speed - 22 node (in clear water), length - 173,3 m (160 m for KVL), width - 34 m (33 m for KVL), height - 15,2 m, draft - 10,5 m / 8,65 m, maximum ice-carrying capacity - 2,8 m, full displacement - 33 540 tons, designated service life - 40 years.
Each icebreaker will be equipped with a two-reactor power plant with the main source of steam from the reactor plant of the new generation RHYTHM-200 with a power of 175MW specially designed for this vessel.
Marked. that icebreakers are planned to be used in the western region of the Arctic: in the Barents, Pechora and Kara seas, as well as in the shallower parts of the mouth of the Yenisei and the Ob Bay area.