The Kawasaki Heavy Industries (KHI) plant in Kobe hosted the launching ceremony of the Soryu class naval submarine under construction for the Japanese Self-Defense Forces, reports
TSAMTO
with reference to Navyrecognition.com.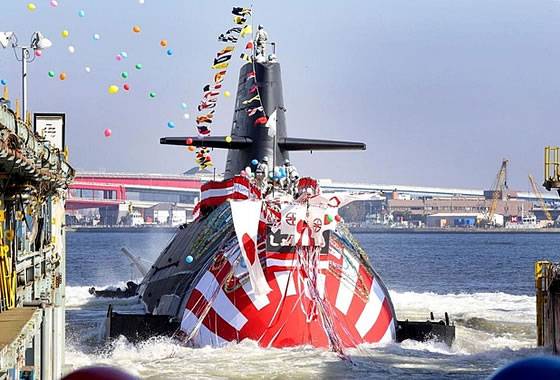 "510" Shoryu "(Shoryu) - 28-I submarine, built at the shipyard Kawasaki Heavy Industries in the postwar period, and 10-I Nasl class" Soryu "(5 built by Kawaski, 5 more - Mitsubishi Heavy Industries)" - says the material.
The boat was laid in January 2015, transferring it
the fleet
scheduled for March 2018.
The length of the NPS is 84 m, width - 9,1 m, height - 10,5 m, draft - 8,4 m, surface / underwater displacement 2950 / 4100 t, Crew - 65 persons.
The boat is equipped with a main power plant consisting of two Kawasaki 12V 25 / 25SB diesel engines and four air-independent power plants (VNEU) V4-275R produced by Kawasaki Kockums. The maximum speed in a submerged position - 20 nodes, in the surface - 12.
Armament: six 533-mm torpedo tubes with torpedoes Type-89, Type-80 and UGM-84C Garpun. The submarine is also equipped with a PU for shooting false targets.
It is noted that "equipping with an air-independent power plant allows reducing the visibility of the boat for sonars and being under water for about 14 days, unlike 4-5 days for diesel-electric submarines without a VNEU". The submarine is also equipped with automated systems and GUS, allowing to increase the efficiency of conducting reconnaissance.