The Iraqi Ministry of Defense reported the arrival of another party of three F-16 fighters from the United States at the Balad airbase as part of the contract signed in 2014. According to the ministry, new aircraft will be put into service after the completion of all acceptance procedures.
The Security Cooperation Agency (DSCA) of the US Department of Defense in September 2010 notified Congress of its planned sale to Iraq under the Foreign Military Sales 18 F-16 Multi-Purpose Fighter Plants Block 52 (in Iraq received the designation F-16IQ)
The company Lockheed Martin 16 December 2014 of the year gave the US Air Force the first two Iraqi-ordered F-16D Fighter Blocks 52 Fighting Falcon for use in training personnel at the Tucson air base (Arison, USA).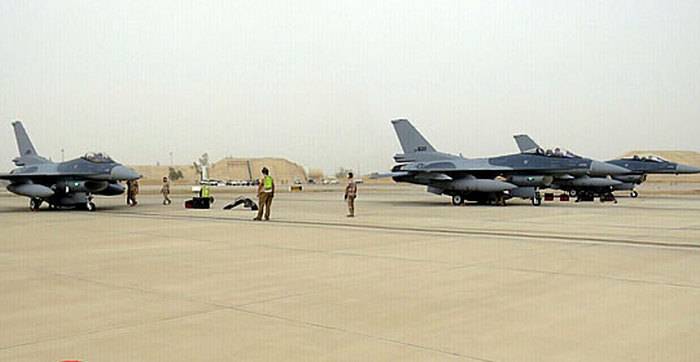 The first four fighters arrived in July 2015 on the Iraqi Balad airbase. February 2 2016 Two more F-16C (bn 1612 and 1614) aircraft arrived in Iraq. The third batch of F-16 (BN 1611, 1617, 1618 and 1620) arrived in Iraq in August 2016 of the year, the fourth (BN 1616, 1621, 1623 and 1624) - 18 in November 2016 of the year.
Two aircraft transferred to the Iraqi Air Force were lost in the United States as a result of flight accidents during the training of Iraqi pilots. One of the transferred fighters (bn 1601) crashed 24 June 2015 of the year during an air-refueling exercise. A crash involving the second F-16IQ occurred 5 September 2017. Supposedly, additional planes will be purchased to compensate for the losses.
The United States continues to supply F-16 to the Iraqi Armed Forces amid growing opposition to the central government with Kurdish autonomy. Earlier, the leadership of Iraqi Kurdistan criticized the United States and Baghdad for the use of American weapons against Peshmerga troops, reports TSAMTO.