The Japanese government, represented by the Secretary General of the Japanese Cabinet of Ministers, Yoshihide Suga, demanded that the United States ensure an adequate level of security of the Osprey convertiplanes used by the American marines against the background of the fact that they are characterized by a high accident rate.
We demand the highest possible level of Osprey security from the US military - this is our main position.
- stressed Suga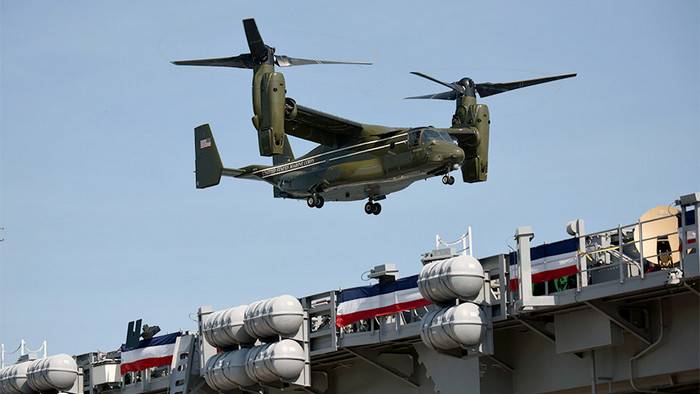 Earlier, the Ministry of Defense of Japan received from the United States a response to a request for information on the number of accidents of the mentioned convertiplanes. According to the Pentagon, for every 100 thousand hours of flight of rotorcraft by September of this year, there were 3,27 serious incidents, which was the highest rate in the US military
aviation
to date.
Osprey convertible gliders of the US Marine Corps are permanently located on the Japanese island of Okinawa and the main island of the country of Honshu. In August, one of them crashed off the coast of Okinawa. After that, another car of the same type made an emergency landing at one of the airports in Kyushu. In Japan, there are deep doubts about the reliability of the Osprey, which combine the capabilities of a helicopter and a propeller plane.
In 2012, two converters flew in Florida and Morocco. Last year, an incident with such a machine occurred in the Persian Gulf, then the marine was killed. In early August of this year, another convertiplane crashed off the east coast of Australia. On board were 26 people, 23 of them were rescued, three died, reports TASS