The crew of the newest frigate Admiral Makarov (project 1135.6) during the final phase of state tests in the Baltic Sea
fleet
performed anti-aircraft missile firing, reports
press office
Western Military District.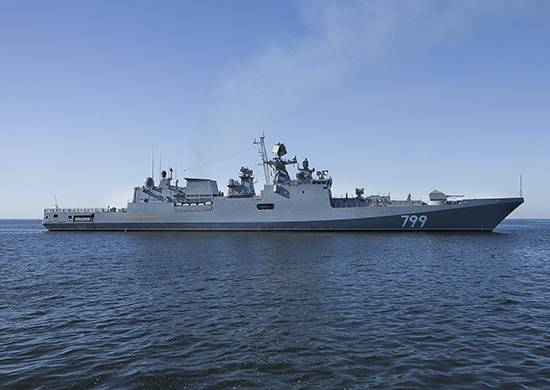 The shooting was carried out from a ship-based multichannel anti-aircraft missile system with a vertical launch "Shtil" at targets imitating conventional enemy cruise missiles. The launch of the targets was provided by small rocket ships of the Baltic naval base "Geyser" and "Rain",
says release.
Having entered the combat course, the crews of the ISCs alternately fired target missiles that simulate anti-ship anti-ship cruise missiles.
It is reported that "ensuring security during the execution of combat exercises was carried out by 10 surface ships and ships of the Baltic Fleet."
The frigate of the 1135.6 project "Admiral Makarov" was laid at the Yantar plant in February 2012 of the year, launched on the 2 of September 2015 of the year. The transfer of the ship to the Russian Navy is scheduled for this year.
Help press service:
"The 1135.6 project ships are designed to counter surface ships and submarines, to repel attacks of air attack weapons, both independently and as part of formations. They have universal missile and artillery weapons and modern radio equipment for anti-submarine and air defense. Ships of this series have a displacement of about 4 thousand tons, length - 125 meters, speed - up to 30 nodes. "