Mine-searching dogs received a new outfit that allows counselors to see what their wards see and remotely monitor their actions while searching for explosive devices, transmit
News
.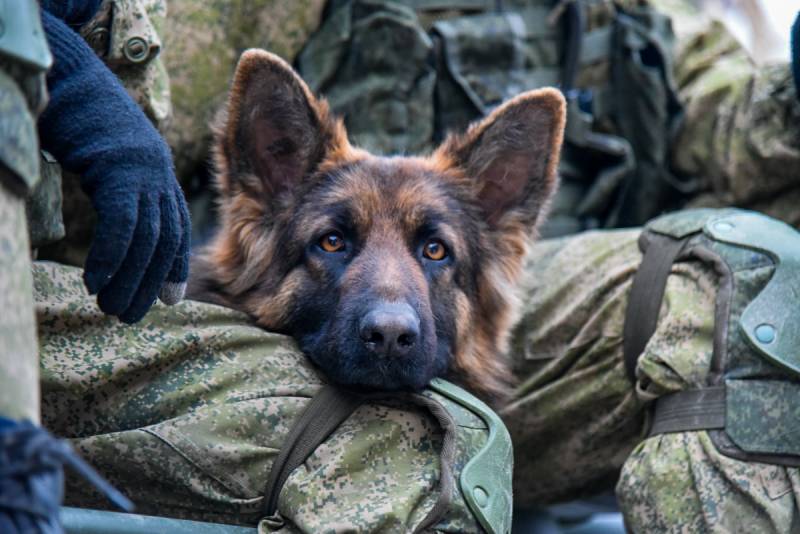 The new system was tested by Russian sappers in Syria.
"The equipment kit consists of a harness with a video camera and headphones adapted for quadrupeds. The image from the camera is transmitted to a miniature screen in the hands or on the sleeve of the counselor. As a result, the person sees the same as the dog. In this case, the counselor has the opportunity to direct the actions of the dog, giving him commands over the radio. Headphones cut off the sounds of shooting and explosions and help the dog to recognize the voice of the leader in a fight, "the material says.
The system was developed at the 66 Interdepartmental Training Center for Engineering Troops.
To protect dogs from bullets and splinters, they, as well as people, are worn armored suits and special helmets.
According to the director of the Moscow city club of service and sports and applied dog breeding of the RO DOSAAF Alexander Zhuravlev, the conflict in Syria gave a powerful impetus to the development of cynological services and the development of special equipment.
Replace the dog when searching for explosive devices is impossible. Nyuhachi - dogs are single and very popular. On average, their preparation takes about 12 months. Therefore, it is advisable to invest in their equipment in order to increase the effectiveness of their use and to protect the dog as much as possible. It is very good that we began to pay attention to this issue,
he said.
According to the dog handler, in the Soviet Union, experiments were carried out when a radio was hung up on the dog and the guide gave the dog to the team. But for a long time this technique was not claimed.
Technically, this is not very difficult, it is a matter of proper dressing. At first the handler stands nearby so that the dog can hear commands from both his mouth and the speaker. Then gradually the distance increases. Here the quality of the training is important, so that the dog is in principle accustomed to automatically carry out commands,
he explained.