Today I was once again convinced of the old truth that the classic once voiced. Manuscripts do not burn! And not only the manuscripts of great works and great authors. They do not burn at all! Even your own. Maybe this is the reincarnation of ideas and thoughts in modern conditions?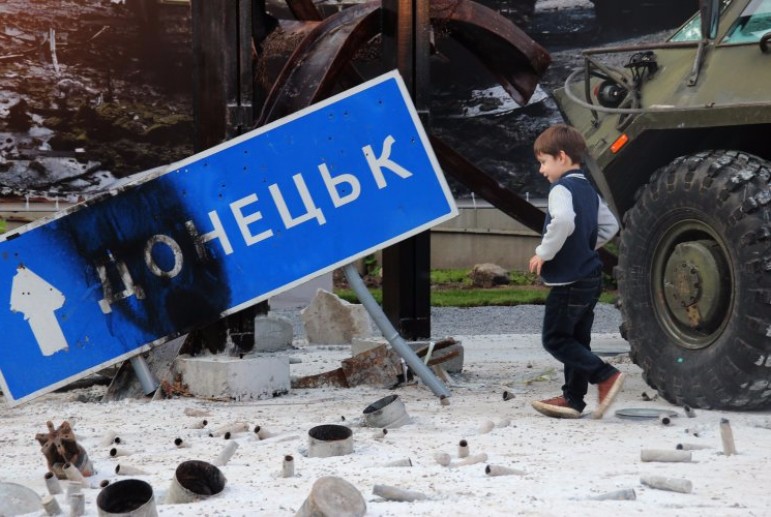 You have no idea how yesterday I was tired of the proposal of one of the deputies of the Rada of Ukraine to submit a proposal to sever diplomatic relations with Moscow to the bill on the reintegration of Donbass. Probably, there was not a single program on TV, where they would not mention this topic.
By evening, seemed to calm down. I even checked some Ukrainian sources. Do you understand the stupidity of such a proposal? Did there really be people in Ukraine who still convinced Maydauns from the Rada that deputies should at least sometimes remember their own people? However, another conversation with a friend and a frequent co-author of my articles cooled me a little. Looking at night.
"Do not hope. There are so many idiots mixed up and inadequate that they will find a loophole to amend the draft." As the water looked. I wake up in the morning, and on you. All yesterday's talk is sideways, the amendment is really made. At night! Spyware. At least, the Ukrainian resource Korrespondent.net reported this in the second hour of the night.
"This amendment exists. It has the number 595. It was made by a group of people's deputies (out of fractional) from the political force UKROP. And there they propose to the Cabinet to break off diplomatic relations with the Russian Federation within three months," said a member of the relevant committee on national security and defense, MP from the Popular Front Andrei Teteruk ".
But back to the manuscript. She emerged precisely after this message. And appeared after ... the game. We decided to beat the situation when diplomatic relations would still be broken. To beat purely hypothetical. Without ideology and stamps. There is a fact - there are solutions.
It is clear that Ukrainians are not going to work for us from a good life. It is equally clear that in the event of a rupture of relations, the life of the unemployed will deteriorate sharply. To get a work visa, to obtain Russian citizenship, even under some simplified scheme, is quite difficult. And the concept of "Homeland" has not been canceled. Homeland - this is not the government and power. So the current position of the majority of those who work in Russia will not be so popular anymore.
"My hut is on the edge. I am a simple person, and I have to feed my family. Get mad, and everything will return to normal." Alas, but this decision will affect all. And those who leave, and those who decide to stay in Russia. "Knife" will be cut live. For meat. Families will be destroyed by dozens, if not hundreds and thousands. Agree to quit the house, all acquired in decades and go to another country is difficult. But there are also children ... Adult children. There are graves of ancestors. There is a cottage with a beautiful view of the river. Have friends...
Alas, but the majority of Ukrainians in this case will leave. This will cause some problems, for example, in oil and gas production. Yes, and in other industries. After all, there are really specialists working there today. Those who need to search. We, our press and other media, somehow unobtrusively transferred the image of the migrant worker from the Asian republics to the Ukrainians. Far from it. Again, these are professionals!
Now some readers, especially from the border regions, are those who, in their comments on our previous article "It's time to be baptized before the storm. About the Russian-Ukrainian border" (https://topwar.ru/128703-pora-krestitsya-do-groma- o-rossiysko-ukrainskoy-granice.html) sigh sadly. There will be nothing. Well toughen pass at the checkpoint and what? Get off at 10-20 kilometers and calmly move on. Locals are well aware of such places.
But there is also a border with Belarus. And it is exactly what was on the Russian-Ukrainian border to all these Maidan. And arguing with Lukashenko about the Ukrainians is stupid. Moscow will not do this. Yes, and it will cost money ...
In the course of our game, the "Ukrainian" made the decision to "break through" to Russia through Belarus. Naturally previewing all the options. Well, taking into account not only the political nuances, but also the real ability of the Russians to control this path.
At the first stage, everything went smoothly. Difficulties began in Belarus. And the scale of Russia is to blame for this. And our system of selling tickets for any transport. Passport required! You can't buy tickets without a passport. So, you can't even get to Moscow. Prohibiting the sale of Ukrainian passports is easy. One fax and everything ...
It remains motor transport. Sorrowful face. A bored car owner or trucker. Next and with the song. You can even save some money.
Does it just prevent Russian border guards and policemen, in case of receiving instructions from above, to check passengers and drivers at checkpoints? After all, these posts are preserved and work with might and main. But even in the case of a "breakthrough" to Russia, further the path will be blocked in the same way. And the police are perfectly calculate visitors, even by demeanor and appearance.
It's sad all this. Millions of ordinary people who, at the whim of political idiots, want to stop being professional "intelligence agents." Or "smugglers." Who is more convenient. Thousands crossed destinies. Thousands of broken family ties. Thousands unfortunate and offended ...
Many Ukrainian political scientists, experts, bloggers have settled on Russian television. Every creature on a pair. For the most part, these are fairly limited and "blinkered" individuals, which are necessary simply to relay the position of some part of Ukrainian society. But there are really competent and serious. Not often, but they also participate in the show.
One of such political scientists, in our opinion, is Vadim Karasev. Naturally, a pro-Kiev political analyst close to the authorities could not bypass such a question. True, the article he wrote is designed for Ukrainians. But the thoughts there are quite interesting. I will quote some.
"... we did not reach the financing of a large strategic cooperation agreement with each other, signed in May 1997 of the year. In 2014, there was an opportunity to break off diplomatic relations and withdraw from this agreement, but didn't agree to this, perhaps because that it has been losing its power since January 2018, since it has been signed for 20 years. What is another peculiarity: the one who initiates the withdrawal from this treaty and the severance of diplomatic relations can be, as it were, immediately to one degree or another can be blamed that he is set to further escalate the conflict and deterioration of bilateral relations. This is an element of the hybrid information warfare, and thus, you can substitute yourself for these accusations. "
As you can see, there is an understanding of why a proposal has been made to the Rada. Even an understanding of the consequences is. In many aspects. But this understanding stumbles upon frantic Russophobia and nationalism of a part of Ukrainian politicism. According to the Ukrainian polls, the majority of the Rada will vote for such a pride ...
I feel sorry for the Ukrainian society. I also see a lot of negative things that "unexpectedly" emerge if this amendment is adopted. And the amendment will be accepted! Maybe with some small nuances, but they will. Ukraine has repeatedly proved that today this state is even ready to jump into the "hell of fire", just not to be "Russia".
The same Karasev is trying to return the Ukrainian politicians from heaven to earth. "Of course, we can now talk a lot about this and make indignant statements, but how to take into account the fact that in the first three quarters of 2017, exports to Russia have only increased? Moreover, a resonant fact recently passed that Antonov Design Bureau will continue to cooperate with the Russian airline, because there are contractual obligations and there is a threat of multi-million facts. Not everything is so straightforward and not always the politicians who have public obligations that are focused on negative political public rhetoric, do not always possess t prose of life. " Will they only hear him in the Rada? Judging by the fact that the amendment was still accepted for discussion, it is doubtful ...
But hope dies last. The author of the amendment, a deputy from BPP, Ivan Vinnik, a few hours ago on the air of one of the Ukrainian TV channels, stated the following: "The President does not support the idea of ​​breaking diplomatic relations with the Russian Federation ... It remains under consideration by the committee, we will be determined in the future with modality."
It remains to draw a conclusion from all these movements of "independent" Ukraine. The "hostage owner" has not yet made a final decision on breaking the diplomatic relations between Ukraine and Russia. This is understandable, today Trump has a more serious task in Beijing. Kiev is not interesting in any way.
We will wait, but still prepare for the worst option ...