The Serbian ambassador in Kiev was summoned to the Serbian Foreign Ministry for consultations on the statement by the head of the Ministry of Foreign Affairs of Ukraine Pavel Klimkin and other officials. In the official interpretation of Belgrade, the meeting at the Foreign Ministry sounded like this: "to discuss issues of interaction with this state".
The reason for the meeting in the Serbian MFA was the call by Pavel Klimkin of the Ukrainian ambassador to Belgrade, Alexander Alexandrovich. The goal of the challenge was to discuss the issue of "finding Serbian mercenaries in the structures of the DNR / LC". According to Klimkin, the Ukrainian ambassador should constantly remind Belgrade that Serbian citizens are fighting in the Donbass "against the territorial integrity of Ukraine."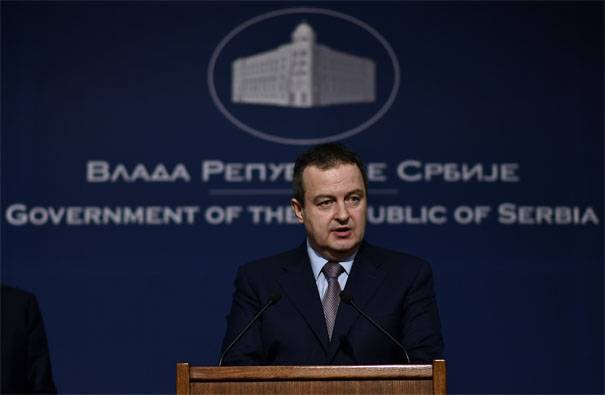 In Serbia, they decided not to leave such a lunge without an answer. The Serbian ambassador in Kiev was instructed to remind the Ukrainian authorities that the citizens of Ukraine at one time took an active part in military operations in the Balkans on the side of terrorist groups, including on the side of terrorists in the province of Kosovo.
Serbian Foreign Minister Ivica Dacic:
Serbia respects the territorial integrity of Ukraine, which has been repeatedly proven, including during the OSCE chairmanship. But we are also aware of the participation of Ukrainian mercenaries in the crimes that the Croatian forces committed against the Serbian people in Croatia. Ukraine has not yet condemned these crimes.
Recall that on the eve of the Polish vice-consul in Lutsk in response to the attacks of Ukrainian historians about "
historical
the Ukrainianness of Lviv, once occupied by the Poles, "said:" In that case, Ukraine once occupied Crimea and the Donbass. "