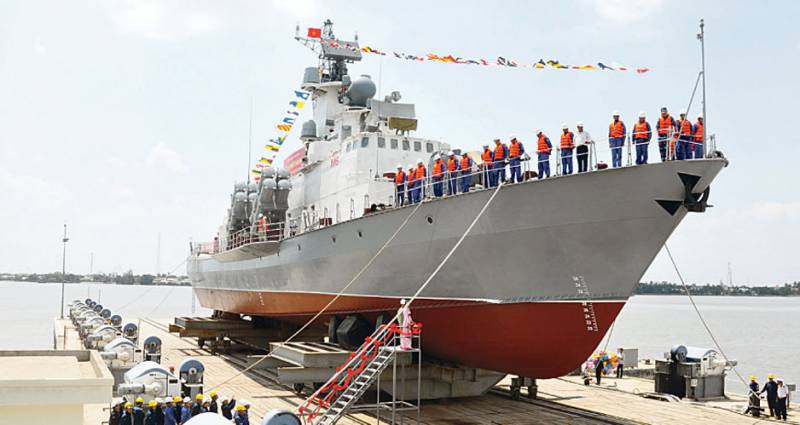 From the 10 countries - members of ASEAN, Russia, like the USSR, never supplied weapons only to Brunei. But the armies of Cambodia and Laos are still equipped almost exclusively with Soviet technology. Unfortunately, the solvency of both is traditionally low, which did not matter for the USSR, but significantly for Russia.
In the post-Soviet period, Cambodia did not buy weapons at all in Russia, and Laos only a certain number of Igla-1 MANPADS and transport helicopters (6 Mi-17, 7 Ka-32, 1 Mi-26). Basically, these countries are now selling in China and Eastern Europe, since prices are lower there.
Loud statements by the Filipino President Duterte about the possibility of mass purchases of Russian weapons have not yet led to real serious contracts. The Philippines is traditionally the main ally of the United States in ASEAN, their Armed Forces are fully focused on American and Israeli weapons, so it will be extremely difficult to even partially transfer to our weapons and military equipment.
The volumes of military-technical cooperation between Russia and Thailand are extremely modest. Bangkok acquired 5 Mi-17 helicopters and 54 Igla MANPADS. The positions of China and the United States are very strong in the Thai market, and it is difficult for us to break through to it primarily for political reasons.
The Russian military-technical cooperation with Singapore is symbolic, materialized only by 30 Igla MANPADS.
Malaysia acquired in the post-Soviet Russia on the 18 MiG-29 and Su-30, 2 Mi-17 helicopter, 400 Igla MANPADS. The Air Forces of the country should soon decide which fighter they will acquire to replace the MiG-29 purchased at the beginning of the 90. If an appropriate tender is announced, Russia will certainly offer either an additional number of Su-30 or MiG-35.
In 2000, a large Russian buyer
weapons
was Myanmar. Its Armed Forces acquired a hundred D-30 howitzers, an S-125 air defense missile system division, 38 Tunguska air defense missile systems, 30 MiG-29 fighters, 3 Yak-130 UBS, 10 Mi-35P combat helicopters, and acquired multi-purpose Mi-24 and Mi-17 a dozen each. In 2015, a contract was signed for the supply of 16 Russian
aviation
RD-33 engines for a similar number of Chinese JF-17 fighters to be built for Myanmar in Pakistan. But it should be noted that its solvency is low, the country's capabilities in military-technical cooperation are limited. Until recently, an important advantage of Russia in the arms market of Myanmar was that Western countries did not sell weapons to it for political reasons, considering the country a military dictatorship, and in fact, our only competitor was China. However, after the military leaves power, relations between the West and Myanmar may significantly improve, including through military-technical cooperation.
An even greater number of Russian military equipment acquired Indonesia - 54 BMP-3, 12 BTR-80, 5 Su-27, 11 Su-30, 5 Mi-35П, 18 Mi-17. The supply of the latest Russian Su-35С fighters is being actively discussed. However, the number of machines in the contract has already decreased from 16 to 11, and yet it has not been signed yet. This is due to the lack of funds in Jakarta, so the fate of the deal is currently unclear. For the same reason, it is extremely difficult to talk about the purchase of the Indonesian Armed Forces of any other Russian weapons.
The main partner of Moscow in the area of ​​military-technical cooperation in the Southeast Asian region is Hanoi, which orders more combat equipment from Russia than all the other ASEAN countries combined, and is among the three largest buyers of our weapons in the world. During the Soviet and recent periods, he purchased from the USSR and Russia a huge amount of military equipment of all classes. Now the Vietnamese Armed Forces ("Hanoi Ark", "Military Industrial Complex", No. 23, 2016) are purchasing naval, air force and air defense equipment from us. Recently, the largest construction contract for Vietnam for 6 Russian submarines of the project 636 has been completed. 50 SLCM 3М54 and 80 torpedoes 53-65 and TEST-71 were purchased for them. The second most expensive contract is for 10 missile boats of the 12418 project (in addition to the four previously delivered 12411 projects), of which 8 should be built in Vietnam itself. To date, 8 units have already been added to the Navy, of which 6 is of its own manufacture. In addition, contracts have been concluded for the construction of the 4 frigates for the Navy of Vietnam 11661 in addition to the two ships of this type purchased earlier. For them and boats of the 12418 project, the 400 X-35 "Uranus" ASM is acquired. Earlier, Vietnam received from Russia 6 patrol boats of the 10412 project.
The fourth contract for the delivery of Su-30 fighter-bomber aircraft to the Air Force has been completed. Total ordered 36 aircraft. Earlier, Vietnam acquired the 12 fighter Su-27. In 2015, the contract for the modernization of three divisions of the Soviet air defense system C-125 of Vietnam's air defense system to the C-125TM version was completed. In addition, Hanoi received two C-300PMU1 ZRS battalions, as well as the most modern coastal missile system, Bastion, with the Yakhont anti-ship missile.
Currently, Vietnam has no political restrictions in the field of military-technical cooperation; nevertheless, it prefers to acquire well-known, mastered Russian equipment. It is likely that the country will purchase an additional amount of Su-30, it is known about the great interest in the Su-35S. In Vietnam, in the near future it is planned to launch production of missiles of various classes and types (anti-ship missiles, ATGMs, missiles) under Russian licenses. Obviously, equipment for ground-based air defense will be acquired, which requires a complete upgrade. The same applies to ground forces. In the post-Soviet period, their technical component was not updated at all. Expected to purchase a few dozen
tanks
T-90A.
At the same time, Vietnam began to acquire very actively weapons and equipment in the United States, Spain, Israel, Australia, and Korea. So far, the volume of purchases from them is much less than under contracts with Russia, but the trend is evident.
The states of Southeast Asia seem to us very attractive allies and economic partners, since, in general, they have significant financial resources and do not have serious political contradictions with us. But the development of military-technical cooperation with Russia is influenced by the relations of these countries with the United States and China. We still have to divide clients from Southeast Asia into "Vietnam and all the rest" for quite a long time. In the foreseeable future, no ASEAN country will be able to replace Hanoi as a special partner of Moscow.
The main problem of Russia in relations with the states of the region is our too close rapprochement with Beijing. For members of ASEAN, China is the main threat. They really need China's counterweights, one of which they have long considered Russia to be. But Moscow does not justify these hopes, which is bad both for Southeast Asian countries and for ourselves.
In addition to the ASEAN countries, we can mention their neighbor from the west of Bangladesh. She is steadily buying exactly Russian weapons. From 1992 to 2016, this country acquired up to 645 BTR-80 of various modifications (after completion of deliveries, it will have the world's second fleet of these vehicles after the Armed Forces of the Russian Federation), 1200 ATGM Metis, 8 fighters MiG-29 (including 2 training -Boy) and 96 missiles "air-to-air" P-73 to them, 16 training Yak-130 and 33 helicopter Mi-8 and Mi-17. Dhaka doesn't have much money, but we have good prospects in this market.