Severnaya Verf Shipyard (part of USC) JSC made a trial run of mid-flight engines of the main power plant of the first serial frigate of project 22350 Admiral
fleet
Kasatonov, "according to a press release received by Military Review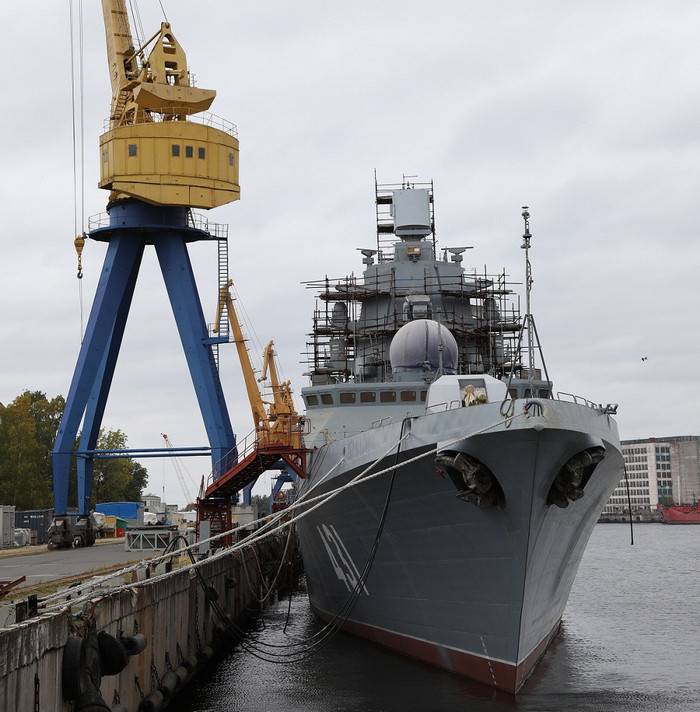 In addition, it is reported that tested single and parallel operation of four diesel generators. Mooring certificates for fire extinguishing systems, drainage, fresh water, air conditioning are closed on the frigate. The ship has put into operation medical and galley blocks, equipment for cabins and cockpits, a mess room and a canteen, sanitary facilities.
The press service noted that the counterparties fulfilled several months later the delivery of part of the ship's furniture, which delayed the complete set of cabins and cockpits. Now the last batch of furniture is already being shipped, and the frigate is being prepared for its acceptance and installation. The primary coloring of the premises is carried out at a prompt pace. In total on the order it is necessary to paint more than 500 of various rooms. The final painting should be carried out during the audit immediately before the ship is handed over to the customer.
At the end of November, shipbuilders of the Northern Shipyard will start presenting the frigate "Admiral of the Fleet of Kasaton" to representatives of the brigade of ships under construction and repair. After accepting the order by the crew, the crew of the ship will take a course that will last two or three months. Upon its completion, tentatively in February 2018 of the year, the introduction of the crew to the "Kasatons" will begin. Sea trials of the order are scheduled for early summer.