In Catalonia, the biggest strike began in
stories
region. Residents of the autonomy, which was deprived of its status by Madrid, are protesting against, as stated, "the cane dictatorship and the infringement of democratic rights and freedoms." Representatives of the Catalan national trade union organization supported the strike, while the leadership of two major Catalan trade unions refused to support the action, calling it a political one.
In response to this, hundreds of thousands of Catalans, not paying attention to the reaction of the trade union leadership, decided not to go to their workplaces, stating that they would not start work until Madrid canceled repressive laws regarding autonomy.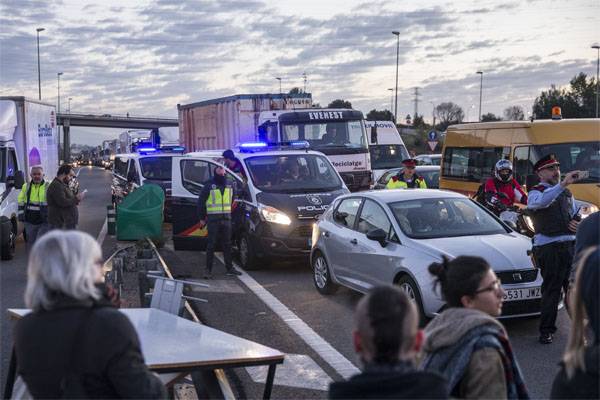 During the strike, all major transport arteries of the region were closed. This is more than fifty highways and railways. Pickets are exhibited in ports and air ports. It has been reported that several flights have already been canceled for departure from Barcelona. International highways connecting the region with France are also blocked.
At the entrance to Barcelona and other major cities of Catalonia, many kilometers of traffic jams formed. The police are trying to intervene in the situation, but the protesters do not allow police cars to get to the places where the main rallies are held.
Several police stations were blocked, in which, as residents of the region learned, the personnel were completely replaced by police officers from Madrid and other cities in Spain.