French submariners will be able to board the nuclear-powered multi-purpose nuclear submarine of the Barracuda type only in 2020, reports
bmpd
with reference to the La Tribune.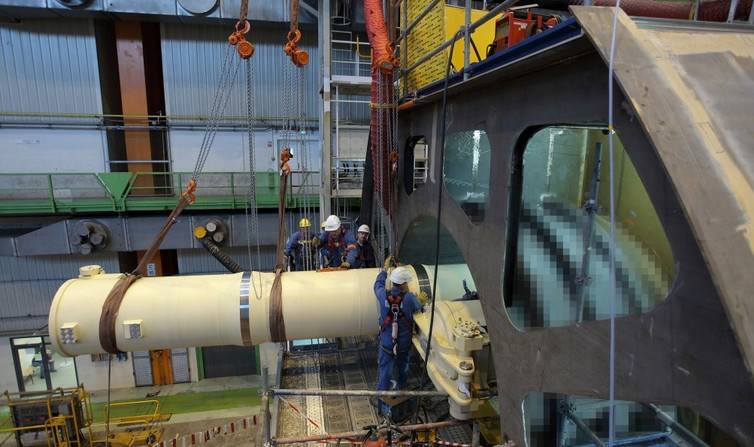 Construction of the head French atomic multipurpose Suffren submarine of the Barracuda type in the workshop of the arsenal of the shipbuilding association DCNS (now Naval Group).
According to the head of the headquarters of the submarine forces of the French Navy, Admiral Christophe Prasuka, the transfer of the delivery of the boat from 2017 to 2020 is related to technical problems.
This is not a "scooter", but a complex complex for construction, during the construction of which mistakes were made. They need to be detected, corrected, and then accelerated the pace of construction,
he said.
In addition, according to the Ministry of Economy, there is an increase in costs at the final stage of production due to delays in the supply of materials and components from the shipbuilder.
This forces the French Navy to continue operating the Rubis submarine. The number of serviceable boats is quite difficult to maintain, since, starting in January of 2017, they were planned to be phased out of service.
"The Barracuda-type submarine construction program began in the 1998 year, the first boat was ordered in the 2006 year. The cost of the entire program is 7,9 billion euros, including the design and construction of six hulls in the period from 2019 to 2028, when the last submarine should be delivered. The length of the ship is 99 meters, the underwater displacement is 5100 tons, the crew consists of 60 people, including 12 officers, "the material says.
It is reported that Barracuda can use the F21 torpedo, the Exocet SM39 anti-ship cruise missile and the MdCN marine cruise missile. The range of its flight is about 1000 km.