Indian information resource
India Defense News
reports that the Russian experts intend to participate in the analysis of damage received by the submarine of the Indian Navy "Chakra". Recall that the submarine "Chakra" (the Russian name - "Nerpa") was transferred to India in leasing format in 2012 of the year. During the next maneuvers - during the transition to the naval base Vizag in southern India - the underwater combat ship was damaged.
In particular, the submarine hydroacoustic station was damaged. In addition, it is reported about the possible damage to the covers of torpedo compartments as a result of a "frontal" collision. India itself does not yet publish data on exactly what the submarine faced.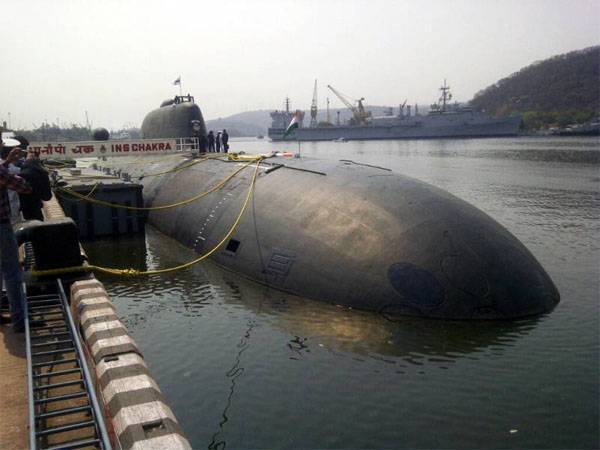 According to the latest data, Russian experts have already traveled to India to assess the damage done to the warship and find out the causes that caused the damage. In particular, there is a collection of data about the collision of what kind of character took place. The incident with the submarine occurred at the end of this summer.
It is noted that if the damage is too serious, the emergency warship will have to be transported to Russia for repairs.
The Indian edition reports that planned repair actions are being delayed because Russia suspected the Indian side of violating the 10-year leasing agreement. It is noted that the violation could be that the Indian sailors allowed the American "partners" to conduct a study of the submarine.
In India itself, such suspicions on the part of the Russian Federation were called paranoia.