Kurds relocating troops from Raqqa in Aleppo. Kurds relocating troops from Raqqa in Aleppo. Reports about it
FAN
with reference to Syrian sources.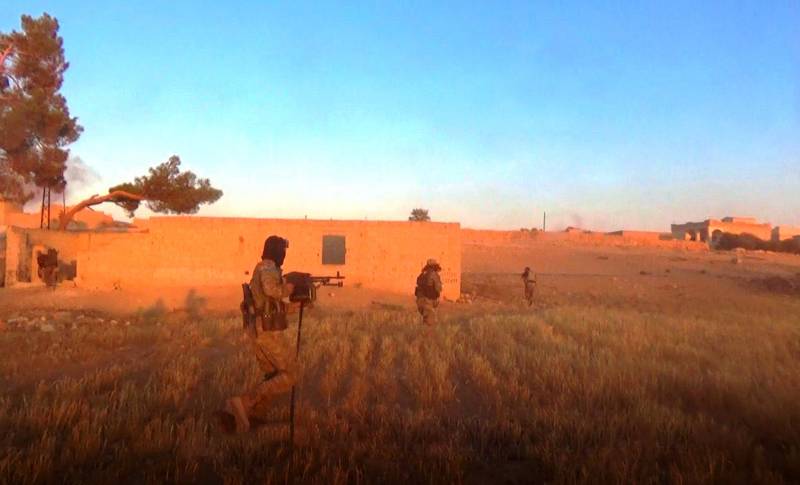 The Syrian Democratic Army (SDF) formations return to Aleppo after completing a military operation to seize the city of Racca. Military experts believe that Kurdish units hastily leave the city due to the escalated confrontation with the Syrian Free Army (FSA) in Aleppo. Recall, the Raqqah areas are still not safe for civilians to live in. Earlier today it was reported that four civilians were killed in the explosion of a mine laid by terrorists.
In the north of the province of Homs, the Syrian Arab Army (CAA) exchanged mutual artillery strikes with the radicals "Dzhebhat Al-Nusrah" (group prohibited in the Russian Federation) near the village of Al-Hula. Information about the losses of the parties has not yet been reported.
Government troops located in the vicinity of Meyadin, under the cover of Russian
aviation
began the assault on the city of Al-Quraiya, which is located near the highway Deir ez-Zor - Abu Kemal. The Syrian Democratic Army (SDF), meanwhile, continues to clash with IS militants (a group is prohibited in the Russian Federation) for control of the settlement of Al-Busheira. Part of the city is already captured by the Kurds.
In the province of Hama, the confrontation between the militants of the anti-government coalition "Hayat Tahrir Ash-Sham" and the IG terrorists who went underground was renewed. According to sources controlled by the armed opposition, the militants managed to detect and eliminate several igilovtsevs in the villages of Anik, Tuta and Khadjil. During the attack, the radicals of Jabhat Fath ash-Sham resorted to the use of suicide bombers on mined cars.
In the province of Hasaka, the Syrian Democratic Forces (SDF) and Popular Self-Defense Forces (YPG) intensified hostilities against the IS. "Democratic Army" captured the town of Al-Kusharia, located to the south-east of the city of Marcada. Local activists claim that the terrorists voluntarily left their positions. Recall, many military experts believe in the existence of a secret agreement between the IPL and the United States regarding the distribution of control over the territories of Eastern Syria.