One hundred years after the revolution, most Russians do not want a return to the monarchy. This is not surprising, according to the author of one influential German newspaper. After all, the Russians have Putin!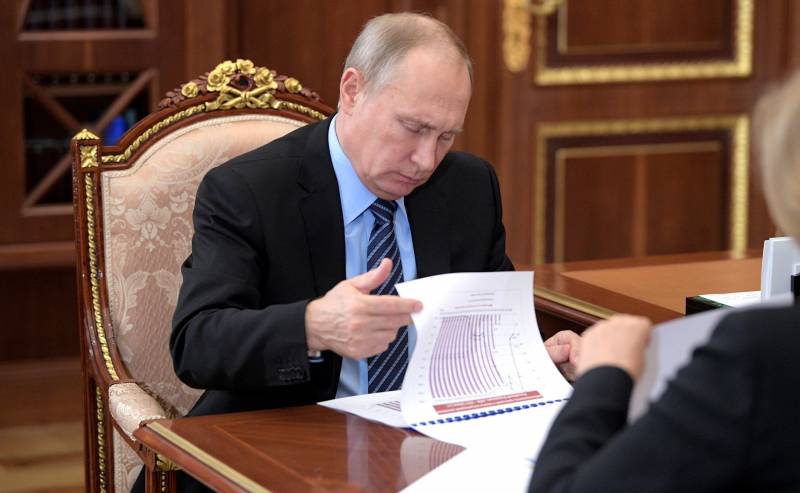 State news agencies of Russia, as well as opposition Internet channels, recently vied with each other to show the cover of the British magazine The Economist: Vladimir Putin in royal vestments. The cover was a kind of symbol: a "visual bridge", demonstrating the transition under Putin from the glorious past of the Russian Empire to the glorious future of the Russian Federation. About this tells in the newspaper
"Frankfurter Rundschau"
Stefan Scholl (Stefan Scholl).
Talk about the monarchy goes on in Russia constantly. From time to time, the journalist writes, "national populist" Vladimir Zhirinovsky (der nationalpopulistische Altparlamentarier Wladimir Schirinowski) suggests returning to the monarchy. Sometimes the same is the case with the "corrupt Crimean governor Sergey Aksyonov" (der korruptionsumwitterte Krim-Gouverneur Sergei Aksjonow).
Observers in Moscow believe that "cynical government officials" are sure: the new king will give them the opportunity to be "irremovable." The king himself will also be "irremovable." Officials with him will be able to transfer their "sinecure" to their sons. Such a "succession" already informally operates in Rosneft, Gazprom and other state corporations, the German author notes.
"Every Russian is a monarchist at heart," says one parliamentarian, also from national populists. True, according to the Constitution of the Russian Federation, power in the state belongs to the people. But in Russia this is a "paper truth", Scholl notes with irony. The constitution here "no one wants to be taken seriously, even the people themselves." Elections are considered "necessary evil." Russia "craves stability, not freedom."
However, sociologists from the "semi-liberal" Levada Center argue that fewer than ten percent of citizens are in favor of monarchy as a form of government in Russia today. However, the percentage of Russians 82 in favor of Vladimir Putin, and 51 percent of them are dissatisfied with the government and 57 percent - the State Duma. The conclusion of the people is: the king is good, and the boyars are bad. The journalist considers such a way of thinking as ossified: he declares it "traditional Russian" and "rather monarchist."
And there are already suggestions that one of Putin's two daughters will run for president in 2024.
Vladimir Putin, the German recalls, is often compared to Nicholas I, known for his "aggressive foreign and reactionary domestic policies."
Finally, the slogan "Down with the Tsar!" Is characteristic of rallies of the opposition minority in Russia.
Obviously, we add, Stefan Scholl has put an end to himself in the Russian democracy: elections in Russia are just a wicked game, the constitution does not matter, the succession is about to be realized. For the complete triumph of tsarism, only a formal name is missing — in content, the country already has it.
Observed and commented on Oleg Chuvakin
- especially for topwar.ru