Vladimir Safronkov, Deputy Permanent Representative of the Russian Federation to the UN Security Council, commented on the report of the joint UN-OPCW Commission on the use of chemical
weapons
in Syria. The head of the joint investigation team, Edmond Mulet, stated that "the investigation was conducted impartially," after which the Russian diplomat asked: "Why didn't the commission even visit the place where the chemical incident occurred?"
From the statement of Mr. Mule:
Our commission did not attend the Khan-Sheikhun and Umm-Khosh because of the high danger from terrorists. At the same time, we guarantee that our methods led to objective conclusions based on a thorough analysis of the events in these cities of Syria. We have collected information from a wide range of sources.
According to Vladimir Safronkov, this approach does not hold water.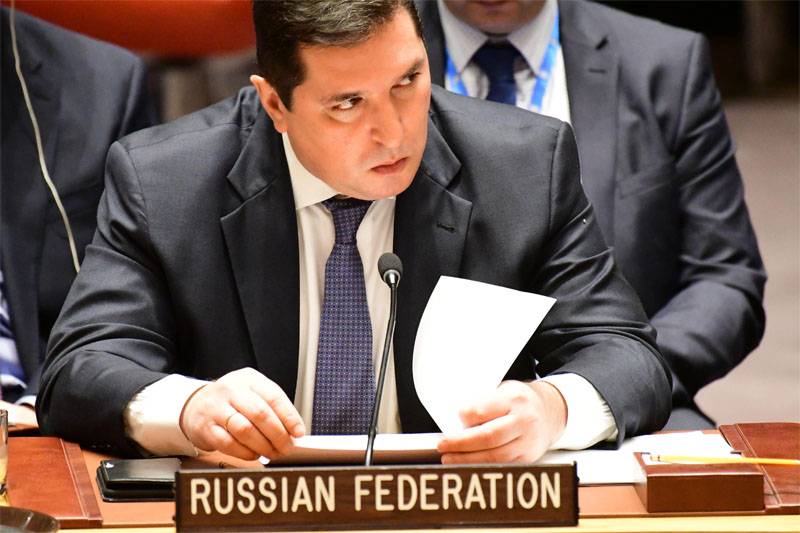 Deputy Permanent Representative of the Russian Federation to the UN Security Council:
As you can, working remotely and refusing to visit the place of the incident, talk about some "objective conclusions." The section on the use of chemical weapons in Khan-Sheikhun draws attention to the apparent abundance of turnovers using the subjunctive mood. The mechanism, on which great hope and great responsibility were placed, simply cannot continue to work in this vein. Without a radical restructuring, he will remain a blind instrument for settling accounts with the Syrian authorities. Now such a reputation is taking shape.
Then Vladimir Safronkov added:
We do not undermine the authority of the mission, but simply operate with facts and arguments.
Recall that in the report of the special commission of the UN-OPCW, ATS troops were accused of himatak on Khan-Sheikhun. At the same time, the main "evidence" was the reports of representatives of the White Helmets group, known for its links with the Dzhebhat an-Nusra terrorist group (banned in Russia).