In the Donetsk People's Republic confirmed the information about the fire and explosion at the ammunition depot of the Ukrainian security forces. We are talking about a warehouse, which is located near the settlement Skilled - in the territory of the Donbass, controlled by Kiev. Initially, Ukrainian officials declared that the warehouse did not belong to the Armed Forces of Ukraine, but was located on the territory uncontrolled by the Ukrainian troops.
From the statement of the press service of the operational command of the troops of the DPR (quoted by NTV):
Judging by the statement, the command of the APU is absolutely not in control of the situation, and in its report indicated that the Experienced is in the territory controlled by the DPR. This, of course, flatters us. But a clarification is needed: the tragedy occurred in the temporarily occupied territory of the Armed Forces of Ukraine, and all responsibility for the incident rests solely with the personnel of the Armed Forces of Ukraine.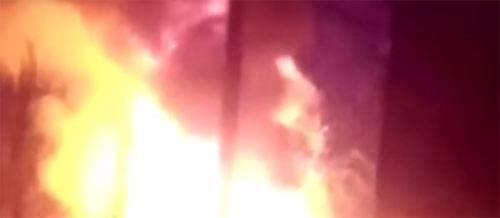 As you know, previously, ammunition depots in the territories controlled by Kiev burned and exploded near Mariupol, in Balakley (Kharkiv region) and in Vinnitsa.
On the specific damage incurred by the Ukrainian side as a result of the incident in the settlement Experienced at the moment is not reported. According to eyewitnesses, the explosions in the warehouse lasted about an hour, and the warehouse eventually burned out completely.