From the bottom of the Volga, specialists raised an armored boat that sunk in the days of the Battle of Stalingrad, reports
TASS
a message from Dmitry Kabelkov, CEO of Monoliths-Holding company.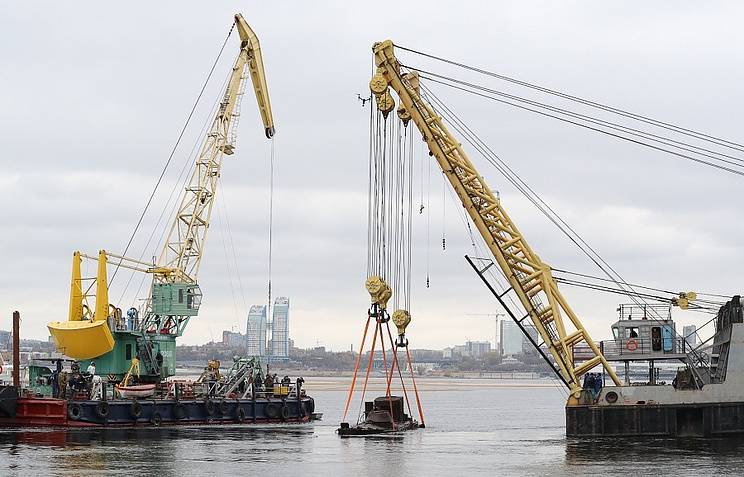 The uniqueness of the operation is that the armored car, completely sand-covered, was dug up and washed from the sand under water. Found that it is divided into three parts. Thanks to the calculation were able to raise it entirely. The weight of the ship is 30 tons, but due to the mass of sand, the total weight was about 150 tons,
told Kabelkov.
The raised vessel was considered missing from October 1942 of the year, two years ago it was accidentally discovered by an amateur diver. Researchers
stories
river
fleet
suggested that it was the BK-31 armored boat, which sank near the island of Golodny in the days of the Battle of Stalingrad. According to Kabelkov, the armored car was called "
a tank
on the water. " The combat vessel was equipped with a 76-mm cannon from the T-34 tank and two machine guns of 7,62 mm caliber.
The armored boat fought and sank in October 1942 of the year. Its construction is divided into three parts, a circle of rust and numerous holes. It is evident that he fell under enemy machine-gun and mortar fire. Now he was sent for restoration at the Volgograd Ship Repair Plant. After restoration, the ship will be transferred to the Museum of the Battle of Stalingrad,
added the CEO.
The boat belongs to the C-40 project common in the years of the Great Patriotic War - an artillery armored border boat with a steel hull. They were created before the war to patrol large border rivers and were built in Leningrad. The course provided a gasoline engine power 1200 hp The armored boat developed speeds up to 15 nodes.