At the building of the Verkhovna Rada again gathered a crowd of protesters led by the former governor of the Odessa region, Mikhail Saakashvili. Kyiv National Police defines the number of protesters as "about a thousand." The headquarters of Saakashvili claim that in the center of the Ukrainian capital gathered at least 2-x thousand supporters Mishiko.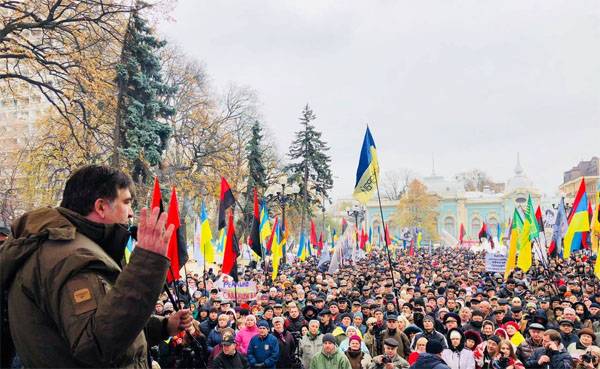 A few minutes ago, on Facebook, Saakashvili made a mark of the following character:
This was the first legislative success in the morning, but today in 18: 30 we will announce our plan for final victory.
This is the creation of anti-corruption courts, which, in Saakashvili's opinion, should be the beginning of a "large-scale fight against corruption."
Additional squads of the national police were pulled into the center of Kiev. According to the most modest estimates, the national police officers and officers of the National Guard of Ukraine in the center of the capital of the country are about one and a half thousand. It is noted that at this moment the rally of supporters of the new political force of the ex-governor of the Odessa region is relatively quiet.
Recall that the last few days Saakashvili, as he himself declares, lives in a tent camp that continues to operate several tens of meters from the walls of the Verkhovna Rada.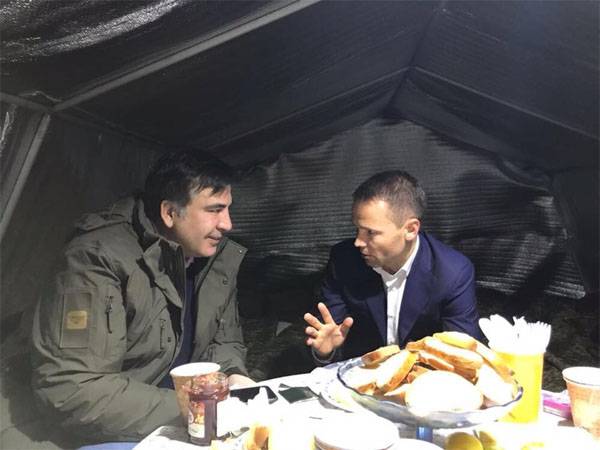 Often, the acting people's deputies drop into the tent to Saakashvili, telling the disgraced politician about the voting process at the Verkhovna Rada on various issues.