Two counter-attacks of terrorists in Deir ez-Zor were repulsed thanks to the Russian Aerospace Forces. Kurds have arrested civilians in the provinces of Aleppo and Racca, reports
FAN
with reference to Syrian sources.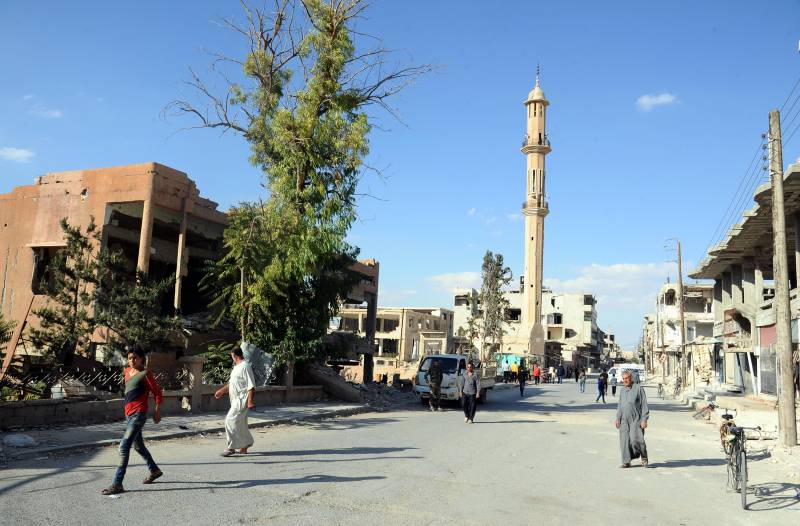 Armed confrontation between terrorists and Syrian troops in the south-western part of the province of Damascus continued for a day. Militants were subjected to positions of militants near the city of Mugr Al-Mir.
In the province of Aleppo, armed clashes between units of the Turkish army and Kurdish SDF and YPG units were observed. After the Democratic Forces of Syria (SDF) opened fire on the places of deployment of the Turkish military near the village of Drat Izza, the Turks retaliated.
In an effort to replenish their troops, the Kurds detained most of the civilians who went to rallies against compulsory military service in the city of Manbij (Aleppo Province). Recall the day before people took part in demonstrations for the abolition of forced mobilization. In support of the protesters, residents of the city of Azaz also participated in the demonstrations. The arrests of civilians also occurred in the province of Racca. Meanwhile, Russian military aircraft hit the fortifications of the Islamists on the outskirts of the villages of Ramla and Al-Muayzil, located to the west of the "Road of Life".
Throughout the day, Syrian units continued to advance towards the strategic city of Abu Kemal (Deir ez-Zor province) with
aviation
RF Terrorists carried out counterattacks in the area of ​​the As-Sukhna-Deir-ez-Zor highway, as well as near the city of Meyadin. Both attacks were repelled with the help of Russian aircraft. Meanwhile, the Syrian Democratic Army (SDF) and the United States on its side expanded their influence in the region - six more small settlements came under Kurdish control with virtually no resistance from the IS group (banned in the Russian Federation). Later, Kurdish units tried to break through the defenses of the Ishilovites in the area of ​​Al-Buseira. Despite the fact that the city is surrounded by "democratic forces," militants continue to resist.
Government units continued their demining and restoration work at Deir ez-Zor. During the searches, a factory for the production of IEDs and other types was discovered
weapons
. The peaceful population of the city, meanwhile, is beginning to return to normal life. As local activists reported, during the occupation of the provincial capital, many civilians were tortured or killed, including pregnant women and children.
In the north of the province of Hama, fighting broke out between armed forces and the Syrian Arab Army (CAA) during the day. Sources reported shelling at the CAA near the settlements of Al Latamin and Tulyul Al Hamr. Fierce clashes to the west of the Aleppo-Haasser-Salamia-Hama highway were also noted. Government forces using military aircraft VKS Russia began storming the village of Sarkh Shamali. After the defense of the Islamists was broken, the city was liberated in a few hours. However, according to an opposition source, during the counteroffensive, the militants managed to return the town.