After the final defeat of ISIL (* prohibited in the Russian Federation), the Syrian government is expected to convene a conciliation congress in the region of Abu Kemal. According to the Syrian journalist Riyadh Farid Hijab, the main purpose of convening the congress is the beginning of a comprehensive political dialogue between the various parties to the conflict in Syria, excluding terrorist groups recognized as such at the international level.
One of the parties invited to participate in the congress is the Kurdish side. According to Riyadh Farid Hijab, it is likely to be about creating full-fledged Kurdish autonomy in northern Syria.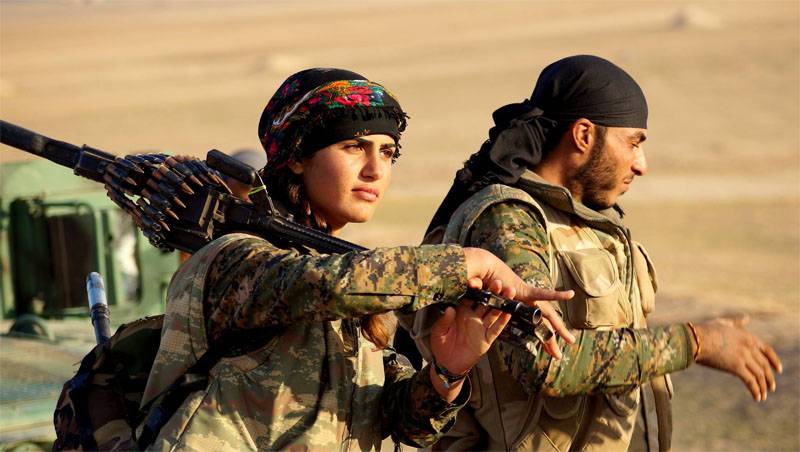 However, the difficulty is that the creation of Kurdish autonomy on its borders will clearly oppose Turkey. It is to ensure that the Kurds could not consolidate in the north of Syria in the form of broad autonomy, the Turkish army concentrates forces on its southern borders and strengthens the borders with the use of heavy machinery.
From the material of Riyadh Farid Hijab:
Since the beginning of the civil war (in the SAR), Turkish media regularly published materials about the infringement of ethnic Turks in the border area of ​​Afrin. Public figures, journalists, politicians in Ankara have repeatedly come up with the idea of ​​incorporating this Syrian city into Turkey. Apparently, President Erdogan and his inner circle support this initiative.

The journalist writes:
Recently, it became known about the large-scale exercises of the Turkish army at the northern borders of Syria. Social network users are actively posting "pictorial maneuvers" of Turkish military equipment on their blogs exactly between the cities of Mumbridge and Afrin. Their purpose is clear and understandable. In the event that the armed Kurdish units, as well as the self-defense units formed in Mambidge move towards their comrades in Afrin, they will meet numerous Turkish armored units on the way. So, according to official information, today almost 3 thousand foot soldiers are concentrated in the north of Syria, about 150
tanks
Turks, as well as armored vehicles and self-propelled artillery.
The Kurds living in the north of Syria have only one solution in this situation - to recognize the integrity of Syria, to stop the confrontation with the Syrian government army and sit down at the negotiating table for the possibility of obtaining broad autonomy. Otherwise, the Turkish army may well decide on aggressive actions against the Kurdish troops in the SAR, especially given the contradictions between these groups and the United States.