The Ukroboronprom press service today published material in which it reports on the Bars-8MMK "super-speed" mortar complex. Reports that the complex was tested at one of the landfills of the Kiev region. Not only representatives of the management of Ukroboronprom, but also the secretary of the National Security and Defense Council Oleksandr Turchinov, as well as the head of the General Staff of the Ukrainian Armed Forces Viktor Muzhenko observed the test progress.
On the
site "Ukroboronprom"
where "Bars" in the release text was called "Bras", it is reported that the car is equipped with an 120-mm mortar and integrated into a digital information exchange system.
From the release:
The time required for the calculation of the new machine to bring it into a combat state is up to 60 seconds. The coordinates of the target were instantly processed by the fire control system. "Bars-8MMK" first opened fire and hit all the targets. After that, he was the first to leave the position even before other mortars were fired.
The material stated that Bars-8MMK is integrated into the digital information exchange system on the battlefield, when the calculation of the mobile mortar complex receives the exact coordinates of the enemy in real time. Such information can simultaneously come from drones, counter-battery radar, as well as other surveillance systems. This system greatly improves the accuracy and efficiency of the fire.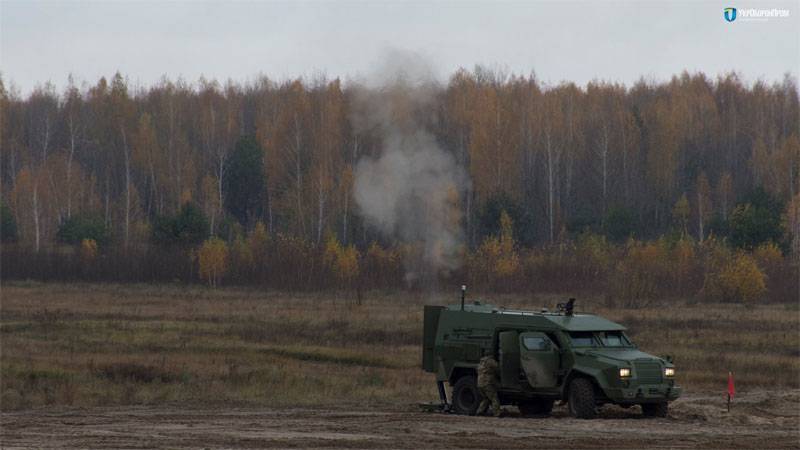 The creators of Barça-8MMK declare that the car, leaving the firing line for the minimum time, opens fire, managing to leave the position before the enemy calculates their coordinates.
Press service of the company:
It should be noted that the Bars-8MMK system can be integrated with any information and control system of the highest level of command and control of troops, including С4, GIS, COM and others. These systems are used in the leading armies of NATO countries and have already proved their high efficiency.