Another proof of tension in the Ukrainian-Polish relations showed itself on the eve of Lviv. The head of the Ministry of Foreign Affairs of Poland, Witold Vashchikovsky, who is visiting Ukraine, refused to be invited to visit the Prison in Lontsky Museum. The official name of the object is as follows: The National Museum-Memorial to the Victims of the Occupation Regimes "Prison on Lontsky".
Witold Vashchikovsky and other Polish representatives stated that they would not attend the museum, since its exposition promoted "false promises that in the 1918 year Poland occupied Western Ukraine."
Vashchikovsky confined himself to laying flowers at the monument to the "victims of the crimes of communism" in Lviv. And when the doors of the museum opened in front of the head of the Polish Foreign Ministry, he pointedly turned around and proceeded in the opposite direction.
Director of the Lviv Museum Ruslan Zabily writes on the social network:
Today there was not enough courage, honor and dignity to the Minister of Foreign Affairs of Poland, Witold Vashchikovskii, to cross the threshold of the National Museum "Prison in Lontsky" and honor the memory of the dead, repressed, persecuted in this prison Ukrainians, Poles, Jews, Slovaks, Czechs and others. He turned from the threshold and left! Organization of a political show turned out to be more important for him, as the memory of those who paid for their freedom with their lives.
Against this background, a march of the so-called "Galician Army" took place in Lviv. About a hundred people as reported
UNIAN
, walked through the city center, chanting "Glory to the Sich Riflemen!"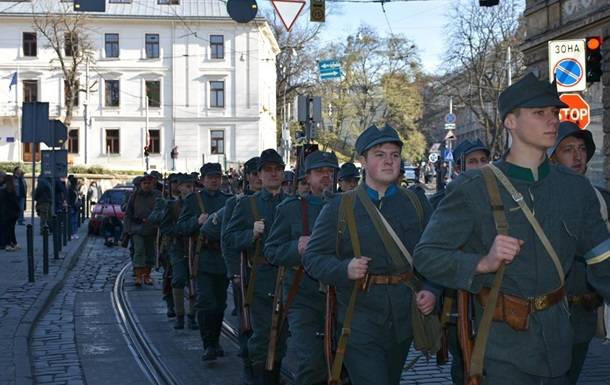 From the message of the Ukrainian media: "The Galician army helped 99 years ago to proclaim the Western Ukrainian People's Republic."
If the events of 1918 in Lviv are considered heroic, then why is the proclamation of Donetsk and Lugansk people's republics in 2014 called "unacceptable separatism"? ..