The so-called Arab coalition announced the closure of all Yemeni ports in connection with the missile attack on Riyadh earlier. Reports of Arabic-language media indicate that the rocket fire was carried out by groups not controlled by the official authorities of Yemen. That is, if we assume that there are official authorities in present-day Yemen.
From the message
Saudi Press Agency
:
The coalition command decided to temporarily close all Yemeni transport hubs, including seaports and air ports.
In Riyadh, they stated that they are considering an attempt to fire at the territory of Saudi Arabia as "a declaration of war by the groups outside the control of the Yemeni authorities."
This is a very strange statement, if only given the fact that Saudi Arabia, together with other members of the coalition, has long ago declared war on the very same groupings. We are talking about the armed groups of the Hussites, who had previously carried out shelling of the territory of the Saudi kingdom after the invasion of the coalition forces in Yemen.
A Saudi media report stated that the government called on international humanitarian organizations to avoid activities in those Yemeni areas that are not controlled by the Yemeni authorities.
Recall that a rocket launch of the Hussites carried out on November 2 using the Burkan-2 rocket. The missile was intercepted by air defense systems.
Photo
IA SABA
: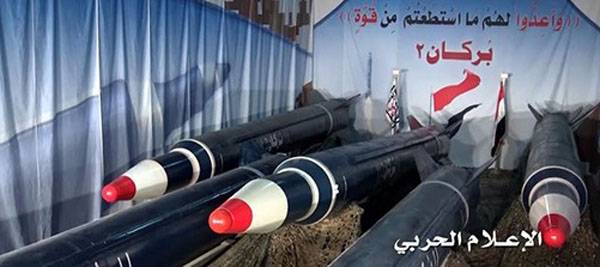 The launch of the rocket gave Riyadh a reason to say that there was an act of aggression by Iran, "arming the Hussite groups." As a continuation of the theme of "declaring war", official Riyadh said that it would perhaps consider Iran's actions as an "act of aggression against Saudi Arabia."