That turn in 1990, I happened to see with my own eyes - and I never felt so ashamed of my country. Casual reading today about the sale by the "gang of Chechens" of places in the queue for "iPhone" and seeing the title pictures of skinny "loafers with a burning eye", I involuntarily compare this "highly intelligent" cattle with people in that line and I understand that in fact everything is as bad as it seems.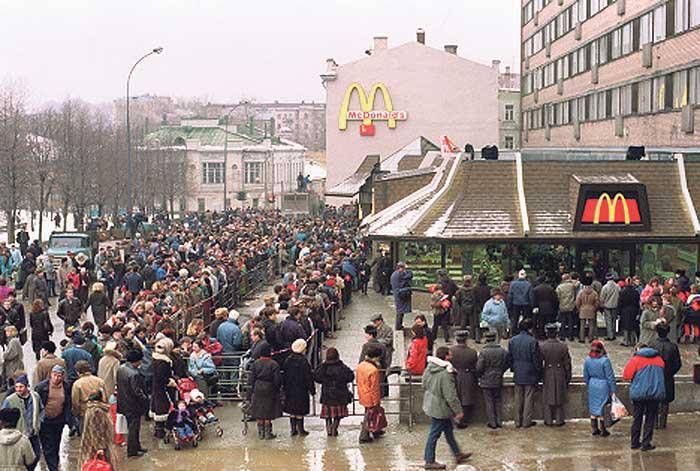 First of all, they were actually two orders of magnitude smaller: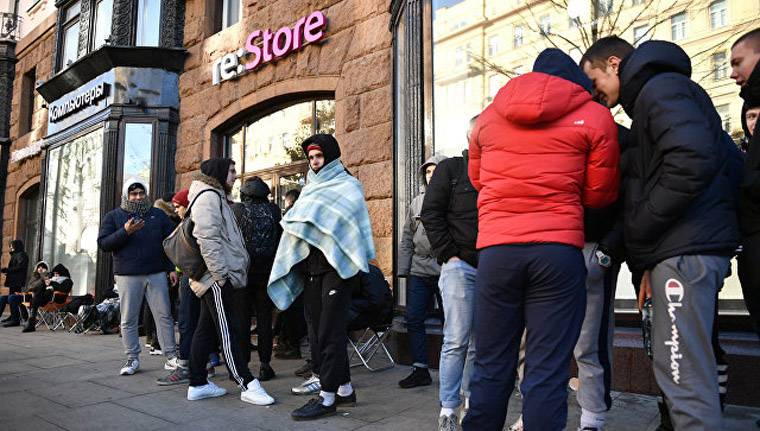 Somehow I got a cadet from Moldova. Little, little black, all the notes kept in Moldovan. Apparently his entire intellectual potential was just to translate from Russian and went away, because he was not able, in principle, to learn English, even in the truncated framework of the course required for OSNAZ. I suffered with him for about four months, until somehow, having exhausted all reasonable arguments, I didn't hit the high calm: "Don't you understand that you are responsible for the warning about a nuclear strike on your Motherland?" To which he received in response: "I am from a small Moldovan village, they will not bomb us."
In general ("montage, baby"), on this we parted. I went to Cuba, and he - ditches to dig into the construction battalion.
I remember, I was worried for a long time. Then, in the Caucasus, fate brought me together with Major Samoil Dmitrievich Bezhenar. The most intelligent Moldavian, deputy for the armament of the reconnaissance of the "Iranian" division. Who returned to me faith in the people of Moldova. Years later, I realized that that cadet was alone in the squad. One to three dozen different, but still adequate young people. Understand where they serve and what they will have to do.
Similarly, the situation with these "waiting list." Yes, they are full of Peter and Moscow, the same Ekaterinburg. There is a lot of noise from them, because they are not only active in social networks, they are also abundant in the journalistic get-together. And on television, they are not the majority. Most of them are unprincipled, but they value true Western values ​​- status and money are above all for them.
And there is still a marginalized younger party of youngsters who dream of becoming the same - in green pants, with dreadlocks in the ear and the iPhone of the latest model. They are piling up bulk, promising a minute of glory and money for everything at once from the ECHR for hanging on a lamppost. How many are there? 10 thousand dollars? And how many have paid?
Plus, on the contrary, very ideological. "Russian nationalists" are called. They constantly find out among themselves which of them is "real" and who is like that - it went out for a walk. However, it became easy to separate this part after the Maidan in Ukraine - the real ones went to the "separatists". And some simply left to fight first in the basements of the Kiev mayor's office, and then to the Donbass - some in the "Azov", some in other neo-Nazi divisions of the Kiev regime. Some, of course, turned out to be among ideologues - some with Saakashvili, some with Poroshenko.
Well, part, of course, remained to agitate at home. Who smarter. Or cowardly. These are not difficult to identify. They are waiting for "up to five minutes to midnight." And when "Putin's regime staggered, they would seize power and lead Russia on the path to a great future." In the meantime, this "patiniutka" has not arrived, they are talking about "tens of millions of traitors in Ukraine" and "stupid bydl" in Russia, which supports the regime, preventing them from "swinging" it.
It's just because of these tens of millions of "there" that the Russophobic regime could not strengthen itself. Well, he has no support inside, there is no that "stupid cattle", which is in Russia and which is not any cattle.
But they are just, all these dozen or more than tens of millions, and there are true patriots of Russia. They do not stand in line for "iPhones" and do not go on pseudo-Russian marches - they have neither extra money nor extra time.
They work to feed their families and raise their children. And they almost every day criticize Putin and criticize the government. For bad roads, for the theft of officials, for the eternal everyday problems. But for them it is not an end in itself or a profession. And criticizing the government, they will come and vote for Putin or his successor, and not for gorlopanov.
Today (November 5), I looked at the Ministry of Defense website for congratulations to military intelligence and accidentally fell on the polls conducted by the Ministry.
These are the real numbers in the country. People see and more than 90 understand that roars take on the air, in the media, in their lives, too much space. Unreasonably much. And they consider that the state, headed by President Vladimir Putin of Russia, does not pay enough attention to the education of youth and patriotism.
Because in our real life, Russia is surviving thanks to simple and inconspicuous people. Who are building not just the Crimean Bridge day by day, they are building a bridge to the future. In the future of Russia. Do it yourself
Maybe it is pathetic, but true.