According to this bill, the country's leadership officially recognizes the "merits" of Latvian veterans who fought for Nazi Germany and will provide them with social benefits, allowances, issue a certificate and badge of a war veteran. Recall that such "national heroes" fought as part of the "Latvian Legion" in the SS form.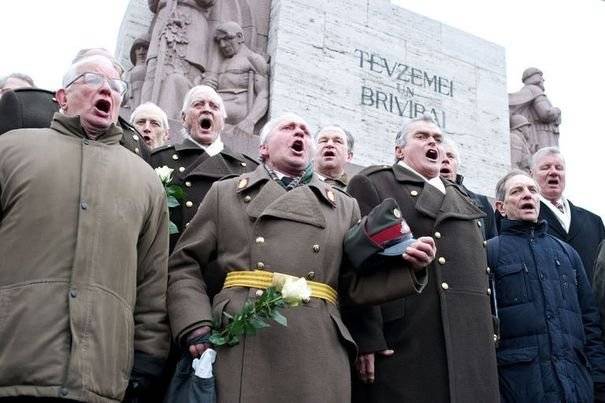 One thing is unclear: why Latvian criminals who fought on the side of the fascists and massively exterminated civilians and Jews (including women and children) would officially become honorary citizens and be supported by the state. The Latvian authorities seem to have forgotten that the Nuremberg Tribunal declared members of the SS troops criminals.
Latvian officials and historians, trying to justify the atrocities of their countrymen, refer to the fact that the evil Germans forced the Latvians to join the legion under the threat of death. Yes, it was so, but only at the very end of the war, when there were huge losses in the ranks of the Hitlerites, and before that, Latvians who did not want to serve in the SS could choose labor service or simply avoid conscription (the punishment for this was 6 months in prison).
Having studied a huge number of documents, historians concluded that 90% of officers and 60% of soldiers without coercion swore allegiance to the Latvian SS legion. As part of the Latvian Legion of the SS under the German command were 15-I and 19-I grenadier divisions. The Reichsführer SS Heinrich Himmler became the father of the legion and included all Latvian police officers who participated in punitive actions in Russia, Belarus, Ukraine, Lithuania and Poland. For example, in Operation Winter Magic, in which for Fascist money, Latvian police cleared the territories of modern Russia and Belarus, destroying hundreds of villages and about 12 thousands of civilians. The dirtiest work for the SS men was done by the "Arajs team". This unit of the Latvian police destroyed about 60 thousands of Jews living in Latvia. The Latvian SS men scoffed, pierced their eyes, knocked their teeth out with their boots, cut out the stars on their bodies, burned them alive, twisted the legs of Soviet soldiers, and cut out the nurses' breasts. And today, the rest of these animals will be supported by benefits and benefits?
Not only did the authorities close their eyes for so many years to the annual march of former members of the Latvian SS SSN 16 March, so in 1998-2000 that day was officially declared the day of memory of the legionaries. Like, they joined the ranks of the murderers against their will. After criticizing anti-fascist organizations around the world, they called this day an ambiguous date in
stories
Latvia and called for "once again to understand and understand that the legionaries are not to blame, they were forced."
It's been so many years. Even the Germans recognize and repent. It is time for the Latvians to recognize the sins of their ancestors. But apparently it will not be very soon, since the draft law now under consideration stipulates that Latvia is not involved in the actions of the occupying forces and did not take part in the war. "