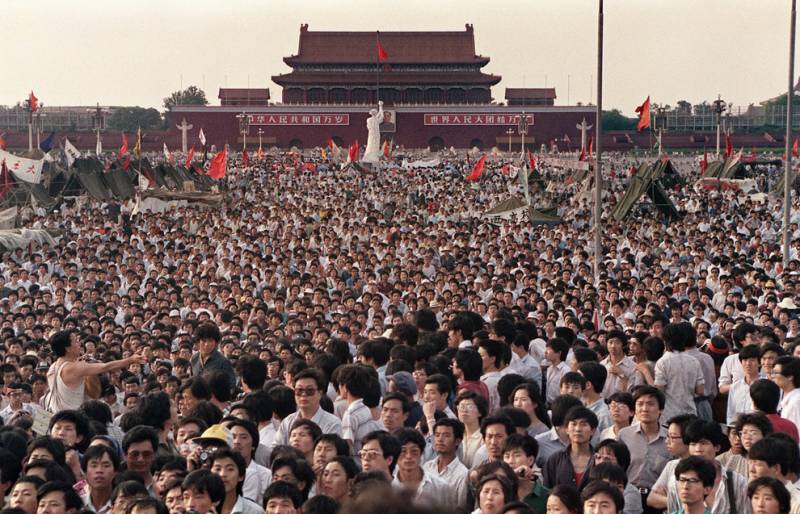 Quite a lot of the past few years have appeared in the media of materials in which the authors, if they don't directly bang China and Russia for Siberian and Far Eastern territories and wealth, hint that the Chinese are sleeping and see themselves as the owners of these territories.
And as an argument / argument they say about the huge population of China and the fact that, if desired, China may well put up an army equal in number to the entire population of Russia. And such a huge crowd rush to capture Siberia and the Far East.
"Where will we bury you all?" Is a question of a completely different sense. Now, using data from a source that made an ambiguous impression on me, I will try to figure out, rather than a myth, whether those millions of Chinese who want to escape from overpopulated China to the expanses of Russia.
In general, if you look at it very carefully, you immediately feel a sense of surprise. Especially if you imagine this billion with a third, crowded on a strip along the coast.
A fair question arises, how is this even possible, with a density of about 400 people per square kilometer? And, most importantly, who provides them a normal life, because, in cities, rice does not seem to grow.
We immediately discard the average population density of China. 140 person / sq. km is about nothing, because everything is visible on the bourgeois map. There are areas with a huge population density, and there are absolutely uninhabited areas. This is normal for a country with such a relief as China.
Cities. Here lies a definite clue. According to statistics, in the 2011 year, the Chinese authorities for the first time stated that more than half (51,27%) of the country's population live in cities. 102 cities with a population of over 1 million people, of which 21 - more than two million.
According to the rules adopted in China, the urban population does not include those living in the suburbs.
If you use the calculator, then 21, the largest city in China, is home to about 82,5 million people. And about the same in the remaining million-plus cities.
According to the same statistics, in China, 228 cities have a population of over 200 thousand people, 462 cities - more than 100 thousand people. and 912 cities - over 53 thousands. Average numbers are overestimated (400, 150 and 70, respectively), and we find that approximately 248,34 million people live in these cities.
If you add up megacities, one million people and the rest of the city, we get the number in 413,8 million people. Very roughly.
Further miracles. If 413,8 million is 51,27%, then ... the number in 1 347 million people of the entire population does not work for any error. 800-850 million. Where are the 500 million more?
Were they?
In fact, it turns out that no one really counted the number of Chinese. The official WHO data are peppered with "asterisks" marked "according to unverified data", "according to the PRC" and in the same spirit as pira zira. All estimates are based on information provided by the Chinese side.
Similarly, the initial figure, from which it is customary to push off, 594 million people (1953 year, the first census of communist China), is very controversial.
It would seem that something complicated: they took and counted all. But in the work I have indicated on China of our compatriots, the approach is somewhat different. They do not question the figures, they simply cite data on China, based on European and Chinese sources of the 19 century.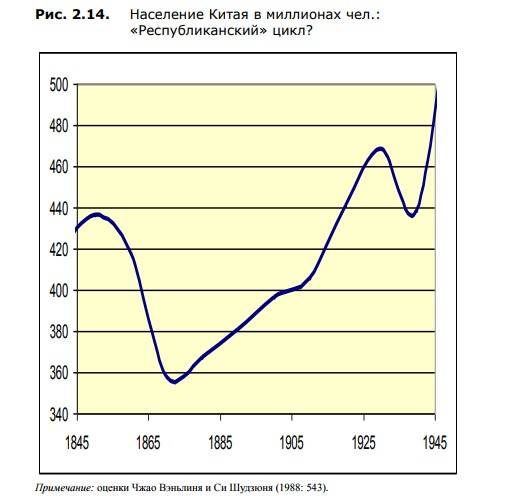 What do we see? We see that in the middle of the 19 century, China's population sank heavily. On 80-90 millions. The reason was, and not one. Two Opium Wars and four major uprisings fit in this gap. 18 years there was a war with the Taiping, about the same time fought with Miao authorities.
Everything is very logical.
The second peak of the fall falls on the 20-40-s of the last century. And here almost everything is clear. The civil war in China from 1927, smoothly developing into World War II, which began for China in 1937. That is, another 18 years of losses.
And again, the numbers are very, very approximate. About civil war there is nothing definite at all, for World War II, China lost from 10 to 35 millions, depending on the appetites counted.
The main thing is that the initial figure of 430 millions was taken, if not from the ceiling, then somewhere near. But the fact seems to be the case - in 100 years from 1845 to 1945, the number of Chinese has not changed much. And this, I emphasize, according to the Chinese themselves.
What's next? And then the demographic miracle began. Otherwise, do not call. The Chinese rushed to "multiply and multiply," as in the bible. And over the years 70 has increased its population three times, to the modern figure. Actually, a billion.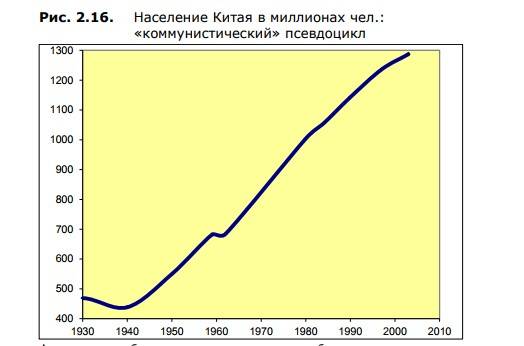 What can be said here? Someone needs to applaud. Whether the creators of children, or compilers of reports. Otherwise - just a miracle. Despite the post-war reaction, the losses in the Korean War, the CCP's peculiar actions that led to the Great Famine 1958-61, when according to official Chinese government data, 15 million people died, and the "one family" artificial restriction conducted since 80. - one child ", China is showing population growth, and what kind! The population is growing by 12 million per year.
Experts say that because of the large basic (initial) figures.
The basic figure, I remind you, we had 430 million people. And for 100 years, it actually has not changed. War, rebellion, war again and not the most advanced level of medicine. China, by the way, was one of the leaders in infant mortality in the world.
And suddenly, at the 1944-45 level, a population explosion starts. It is illogical, for war is going on, men are fighting, the Japanese diligently reduce the population of China, however.
I would understand if in the year 1947-49 everything started. When the war was more or less withdrawn, the men returned from the front, and so on. By analogy with 1946-50-m with us.
No, in the 1949 year, in the year of the founding of the People's Republic of China, the figure was already 551 million, and at the first official census in the 1953 year - 582 million
Sense? Not really. Basic 430 million minus civil war, minus World War II (10-30 million), minus natural loss, minus indirect losses (I mean the loss of the male population in the war) will still yield + 120 million people in 1949 a year. Over the 22 of the year during which China fought 1927 on 1945. And 4 of the World.
Well, also + 30 millions for 4 of the year before the 1953 census of the year.
Then there was a cultural revolution with countless repressions, a Great Famine, another war (little things, yes, 150 of thousands of men), but the population grew faster and faster. And to Taiwan from the joys of communism, about 20 millions fled.
But the population continued to grow at the most rapid rate.
There is one more important aspect. This population is simply obliged to eat something. Otherwise, judging by the data of 1958-61, it begins to decline rapidly.
And here, too, not everything is clear to the end. Yes, China takes a lot of first places in terms of consumption.
I will start with cereals, as this is the most significant indicator.
In the USSR, per capita 1975-1990 consumed cereals per year 0,55 tons per person. Approximately the same figure today for Russia. Grain is not only bread and pasta, it is also meat. Figures of domestic grain consumption in Russia (about 75 million tons) correspond to reality.
Vietnam consumes about 60 million tons of cereals, with an official population of 91 million, that is, 0,66 tons per person per year. What is also real, in any case, in Asia more cereals are consumed historically. Rice is the head of everything.
Cereal production in China is officially 557 million tons. There is almost no import. Population 1370 million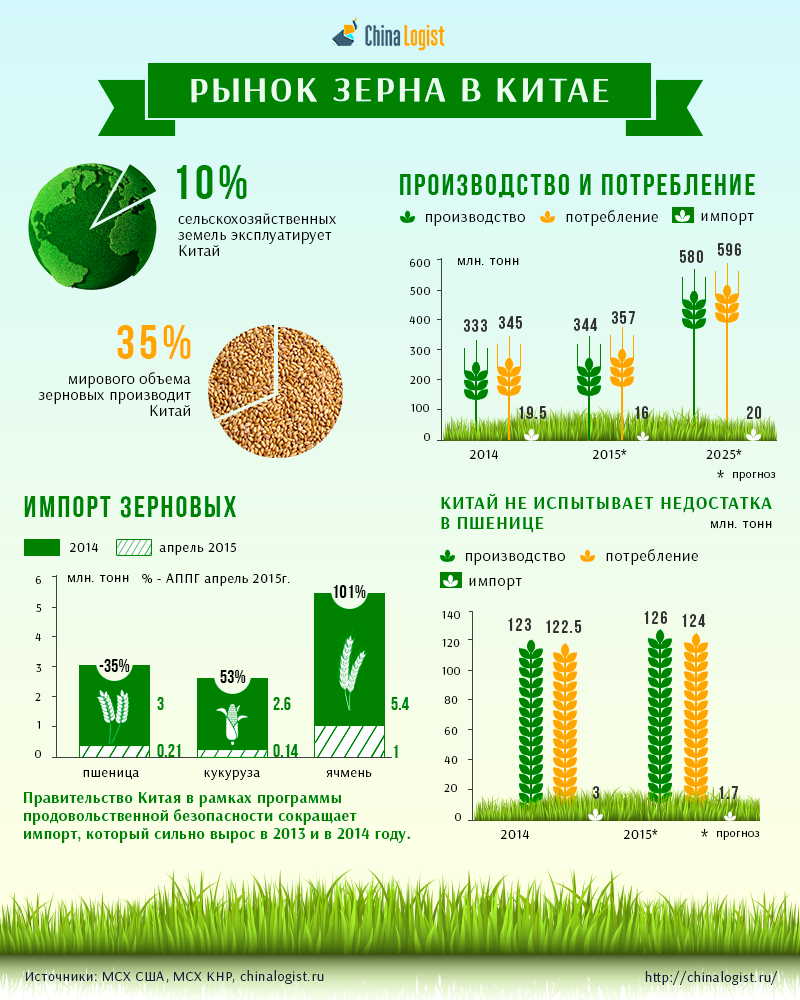 Total 0,4 tons per person. in year. Are Chinese (prosperous) eating less Vietnamese? Which obviously live worse. And again, meat production has not gone anywhere. And his Chinese, too, eat heartily.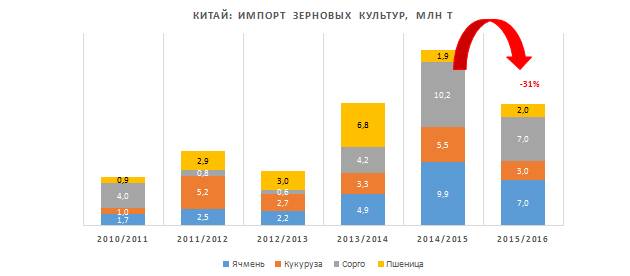 In 2016, China produced 53 million tons of pork. That is, 40 kg per person per year. A total meat production of the order - 80 million tons. That is, the Chinese officially consumes 60 kg of meat per year (in the Russian Federation, about 80 kg. Per year).
Questions again. To produce 1 kg of pork you need an equivalent of about 9 kg of cereals. That is, it turns out that the feed should go more than all of China's cereal production, which is unrealistic.
There are global statistics that about 2 / 3 grain is used for meat, that is, about 370 million tons. This is in the 40 output of millions of tons of meat. That is, for 30 kg. per person. But the Chinese eat more!
In Vietnam consumption 50 kg. meat per year. To do this, you need 450 kg of cereals. 660 kg of cereals per person in Vietnam. 660-450 = 210 kg per person consumption, that is, the same proportion - 2 / 3 per animal and 1 / 3 per person.
So it turns out that through the meat, whether the Chinese have not so much meat, or there are not so many Chinese ...
Maybe the Chinese lie? And just do not show all their achievements? Are these 550 million tons of grain hidden from statistics just importing them from somewhere?
And to import such a grain through is simply nowhere. In 2017, Russia is projected to place 1-2 in the world in grain exports. And this is 38-40 million tons.
And the statistics says that the existing production in 557 million tons of grain occurs when the average yield in China is 59 centners per hectare (this is a high yield, as in the US, the yield of cereals 76 t / ha, in Vietnam, 56 t / ha, which is comparable to China, and in Russia in general 30 d / ha in 2017 year).
This is almost 100 million hectares of land or 1 million square meters. km Large areas. 10% of the territory of China. But according to the logic, in order to feed 1,4 billion mouths with such a crop, it is necessary to bring the acreage under grain to 20% of the country.
But man does not live by bread alone, right? China plants in thousands of square meters. km under the soy 67, under the potato 55, under the orchards 128, under the tea 20.
According to rough statistics, China produces half of the total world production of vegetables and melons, - 480 million tons. For this you need about 200 thousand square meters. km crops. Total 470 thousand square meters. km., that is, almost 5% of the country.
But in general, we have 15% of the territory of China under agricultural land. This figure also coincides with land statistics.
But the ambush is that a huge part of China's territory is not so much for grain crops, but it's generally not suitable for life, because it is either desert or mountain. With zero population density, because you can not live there at all.
Take a look at the administrative map of China. There are so-called autonomous regions in China (ARs). There are five of them, but now we are talking about three: Xinjiang Uygur, Inner Mongolia and Tibet.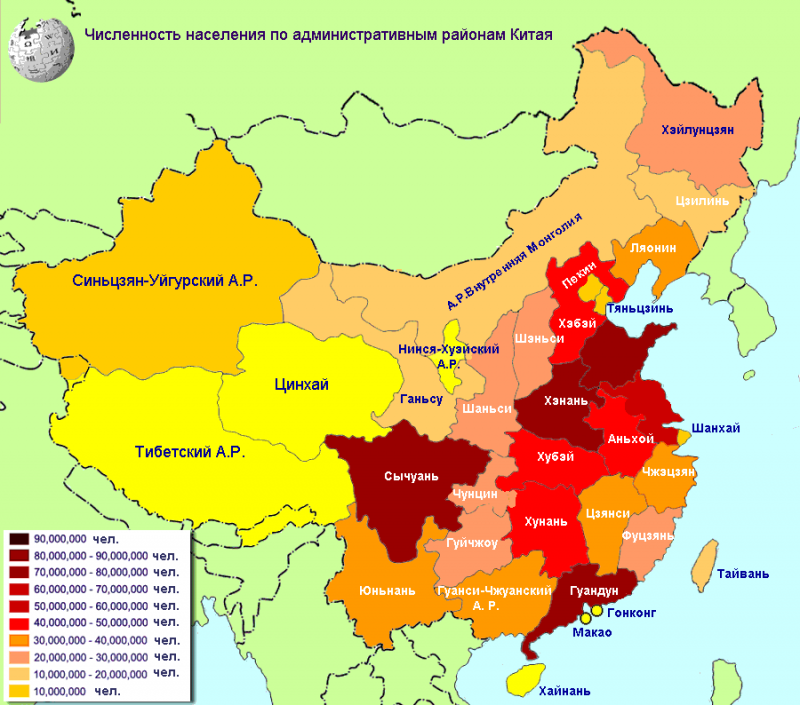 These three APA on the territory occupy respectively 1,66 million square meters. km, 1,19 mln. km and 1,22 million square meters. km, only about 4 million square meters. km, almost half of the territory of the PRC. 19,6 mln. People, 23,8 mln. And 2,74 mln. Live in these territories, respectively, only about 46 mln. People, about 3% of the PRC population. Of course, these areas are not the most wonderful for living (mountains, deserts, steppes), but not worse than Outer Mongolia or our Tuva, or, for example, Kyrgyzstan or Kazakhstan.
About 10% of the territory is occupied (almost a million sq. Km.) By the megacities mentioned above. About the rest of the city silent for now.
100% -40-15-10 = 35% territory seems to be free. But on these 35% still lives, neither more nor less, but about a billion people. Those who are not included in the number 250 million residents of large cities. Plus rivers, lakes and other reliefs.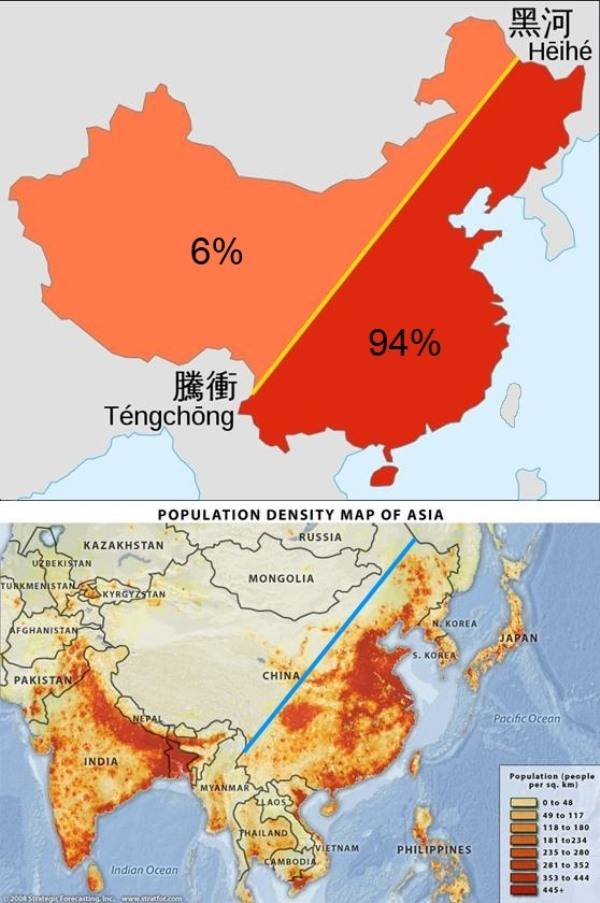 Is it possible to single out 15% of the entire territory from this number for a real doubling of production? But it does not seem real.
For comparison, in the same Vietnam, 90 thousand square meters were plowed for cereals. km, which is 27% of the country, and 10% of the territory - under the settlements, despite the fact that 50% of the territory is suitable for living in Vietnam (25% low hills and 25% plain). If we take a suitable territory for life for 100%, then half of them are already under grain, 20% is under cities, and everything else is 30%. That is close to the existing Chinese proportions, only more arable land and less cities and industry.
So it turns out that, judging by the numbers, there are not so many people in China. And if there is - then, to put it mildly, their life is not very full. But - live the same, and live normally. With this, too, do not argue.
It's not at all that the conclusion has been asked for; people have been talking and writing about this for a long time. There are no billion inhabitants in China 1,3. In principle, there is a place for them, but the food is not prepared. So it turns out from figures of manufacture and import.
And I agree with those who claim that the real population of China ranges from 500 to 700 million people. Even with the figure in 700-800 million would agree. But not 1,3 billion
Another question is how and for what could these 500 millions be attributed. And who benefits.
It is beneficial, first of all, to China itself. The deterrent is not worse than the nuclear
weapons
. Who is going to fight with a country that can put the army in 100 millions? But this requires huge stocks of weapons.
There is a second nuance. And it is more effective as a puglock. Immigration "in case of anything." We all witnessed how the 2,8 pier, the official refugees (and around 1,8 unofficial) who arrived in Europe in the 2013-15 years, put it mildly, put this Europe in a very uncomfortable position.
But clever and cunning Chinese, (and after them Hindus, Indonesians, and indeed all of Asia) in the last century caught that the population is the same strategic weapon as bombs and missiles.
And the prospect of feeding and maintaining such a break through the people is a very difficult task. No less difficult than repulse from such a situation, as the population of India, China, Vietnam that has rattled in the style of Arabs towards the aggressor.
It is clear that the Pacific Ocean is not the Gulf of Mexico or the Mediterranean Sea. In Siberia, it seems easier.
But no less easier in the same Myanmar, where there are fewer people, and the climatic conditions are the same as in China. And there is no nuclear club.
In general, the result of this "study" was the conclusion: there is no reason for concern yet, since there is no one and a half billion people in China suffocating from hunger and lack of land.
Yes, the number in 700-800 of millions is impressive too. However, with such a scenario, there is no reason for concern. Now, if in China suddenly there is a swagger like our 90's, then yes. In the meantime, everything is calm in Beijing. No one is going anywhere, because there is no need and so far no one.
I like the Chinese government to draw huge numbers of people's growth - well, who will forbid it? And who is against? Let them draw.
Sources:
Korotaev A.V., Khalturina D.A., Bozhevolnov Yu.V. Laws stories: Century cycles and millennial trends. Demographics, economy, war. Historical Macrodynamics of China.
http://cliodynamics.ru
Van Y. Level and development trends of the innovation and investment potential of the agro-industrial complex of China
https://kondratio.livejournal.com/722151.html
http://nnm.me/blogs/alexey345/v-kitae-zhivet-v-tri-raza-menshe-naseleniya-chem-prinyato-schitat