Gazprom has completed the construction of the sea sections of the Turkish Stream in Russia, the first line of the gas pipeline entered the exclusive economic zone of Turkey, reports South Stream Transport BV (a subsidiary of Gazprom, which is engaged in the construction of a gas pipeline).
Pioneering Spirit, the world's largest pipe-laying and construction vessel, celebrated this event by placing pipe sections with Russian and Turkish flags at sea symbolizing the crossing of the border of the exclusive economic zone between the two countries.
- the report says.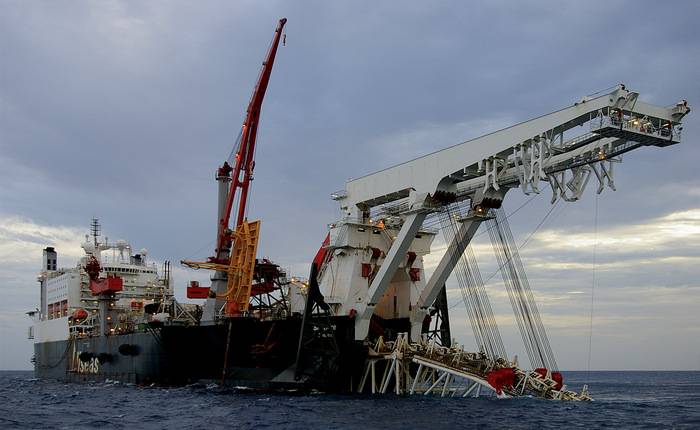 In total, Gazprom has already built 448 kilometers along two lines of the Turkish stream. According to SST, construction is on schedule - in less than six months, it has been possible to build almost a quarter of the offshore section.
Now the ship Pioneering Spirit will continue laying the thread to the landfall section in Turkey. Both lines of the gas pipeline will go to the land near the settlement Kiyikoy.
The Allseas vessel's Pioneering Spirit lays an average of about four kilometers per day. The depth of the Black Sea on the border of the exclusive economic zones of Russia and Turkey is 2171 meter - this is one of the deepest sections of the Turkish Stream.
Gazprom has been constructing the Turkish Stream gas pipeline since May. The construction of the first line with a capacity of 15,75 billion cubic meters is expected to be completed in March next year, it is intended for gas supplies to Turkey. The second line, the same capacity that gas will go to southern and southeastern Europe, should be built in the 2019 year.