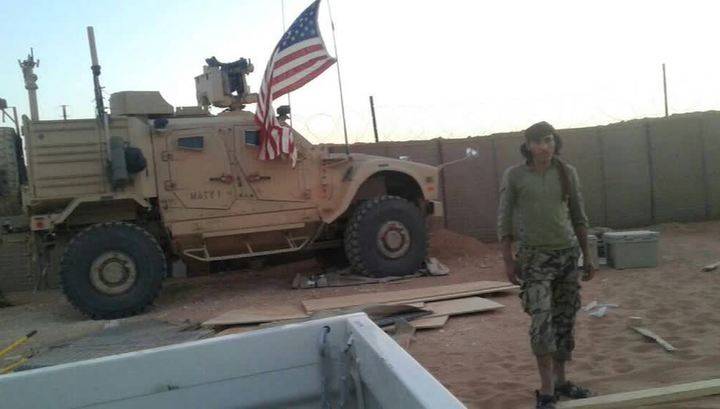 The fight against terrorism in the Syrian Arab Republic (SAR) is in its final stages, but it is premature to speak of a complete victory over the radicals. One of the main obstacles preventing government forces from putting an end to the longstanding conflict is the US military base in Al-Tanfa.
On the territory declared by Washington as a no-fly zone, several terrorist groups are based: "Jaysh Asuad Al-Shakriya" ("Eastern Lions"), "Kuwat Shahid Ahmad Abdu", "Liva Shuhada Al-Qaryayatin" and others. Most of this rabble is consulted by US special operations forces and is actively funded by the US budget.
It is noteworthy that among the wards of Washington there is a considerable percentage of drug addicts and alcohol addicts. Also in social networks it is reported that in the refugee camp of Al-Rukban, where families of terrorists live, the number of patients with venereal diseases is growing. However, in this situation, the States do not have to choose.
In fact, the pack assembled in Al-Tanf is the only argument that preserves Washington's illusions to create in the south of the SAR independent of official Damascus the Federation of Eastern Syria. Nevertheless, the chances of making the American dream come true are crumbling before our eyes.
As you know, in the south-east of the country, government forces continue to engage in fierce clashes with ISIL militants (the organization is banned in Russia). One of the key settlements that the army of the SAR is to be liberated in the near future is the city of Abu Kemal. If the operation succeeds, the Syrian army gets a part of the border with Iraq, which is unlikely to be won back by the gangs supervised by the international coalition.
It should be noted that the possibility of gaining full control over the southern border of Iraq was one of the main factors forcing the Pentagon to leave at its neck the terrorist trash in Al Tanf. Obviously, Washington continues to lure this reserve to its hour, giving the report that this hour, apparently, will not come.
As for the militants, they, taught by the bitter experience of fighting government forces, have no desire to return to the "front". The last argument forcing terrorists to make unsuccessful attempts at an offensive is the fear of losing revenues from controlling smuggling routes and the threat of patrons to cut off their funding.
However, "monetary circumcision" can not be avoided. Given that General Suheil's assault groups have already landed on the Syrian-Iraqi border, and the Russian Aerospace Forces are "processing" militant objects in the Abu Kemal area, the day when the American Et-Tanf project ceases to exist, not far off.