Not only Germany, but the entire West was naive, hoping that Russia will become its partner, said the German historian and retired General Klaus Wittmann to the publication of Rzeczpospolita. Interview leads
InoTV
.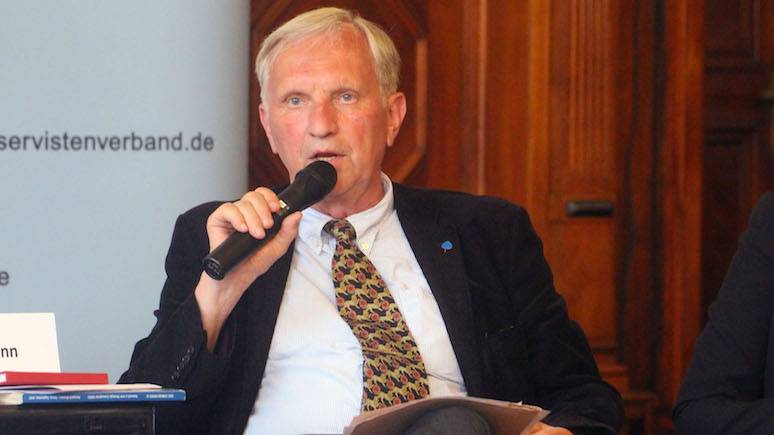 If today it came to war with Russia, then Germany could push only one heavy division to the fight. But with confidence we can say that she will come to the aid of Poland,
said Wittman to the Polish edition.
According to him, Germany's defense budget should grow from 1,2% to 2% of GDP to 2024, which means that "in six years Germany will become Europe's biggest military power, because no one except the United States and China spends more € 75 billion per year for the army. "
When asked whether the neighbors of Germany are ready for this, Klaus Wittmann replied:
So the question was trying to put the Social Democratic Party in the elections. One of its leaders - Sigmar Gabriel - asked: "Where are we located all these airports that we will have to buy in order to use 75 billion euros." But this was the decision not only of Germany, but of all NATO. This decision was made at a summit in Wales in 2014 and in Warsaw last year in response to the annexation of Crimea by Russia.
Then Chancellor Angela Merkel announced that Germany would strive for these 2% of GDP. This means a conditional commitment that the defense budget will indeed grow to € 75 billion if Russia continues to pose a threat to the alliance.
On the question of whether Germany was naive with respect to Russia, the German historian said the following:
We were all naive, hoping that Russia would actually become a partner of the West. But after the sensational speech of Vladimir Putin in Munich in February 2007, I warned that Germany and all NATO are doing too little to protect Poland and the Baltic countries from Russia. Despite this, the seizure of Crimea by Putin was a complete surprise for German intelligence. However, it should be acknowledged that the West also made mistakes, especially at the Bucharest summit in April 2007, when under pressure from George Bush, Ukraine and Georgia were promised membership in NATO. This was a provocation for Putin: a few months later he launched a war in Georgia and extended the presence of Russian troops in Sevastopol to 2042.
According to him, "those who claim that the Baltic countries cannot be defended are wrong, because West Berlin also seemed impossible to defend, but the Soviet Union did not attack him: after all, American, British and French forces were based there." Similarly, the situation is now with the Baltic countries.
Wittmann does not agree with the statement that it is pointless to strengthen non-nuclear military forces, since Russia will use nuclear weapons against them. He stressed that Germany resolutely refused to possess nuclear
weapons
.
We participate only in the NATO Nuclear Planning Group, in Germany they store American atomic bombs, which, if necessary, can be transported on our Tornado bombers. But beyond this we will not go. If fears are already growing in Europe due to an increase in German conventional forces, then what would have happened if Germany had become a nuclear power?
Therefore, American nuclear safeguards are sufficient. In addition, "French nuclear forces also play a big role for Germany: during the Cold War, when they were formed outside NATO control, the Soviet Union was never sure that the French would not be so crazy in the event of a conflict to press a button."
Such uncertainty is of great importance for deterring the enemy,
Klaus Wittmann summarized.