On the production site of the Branch "Sevastopol Marine Plant" JSC "Center repair ship" Zvezdochka "was the start of metal cutting for the construction of the mortgage section of a floating crane with a capacity of 400 tons designed by the Central Design Bureau" Coral "(Sevastopol), reports
bmpd
with reference to the press service of USC.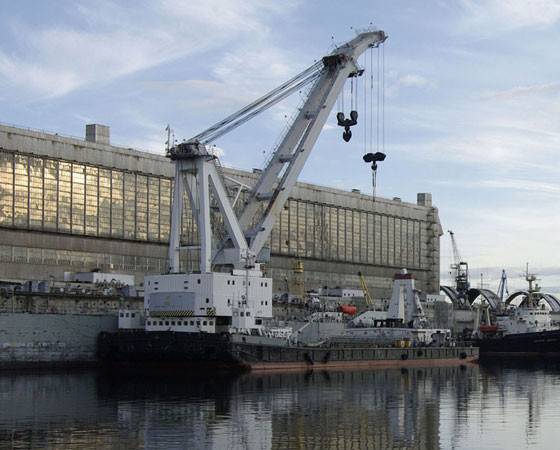 The last floating crane built at the Sevastopol Marine Plant, operated from 2014 by the Northern Machine-Building Enterprise Production Association in Severodvinsk. Its construction was completed in 2004.
The floating crane received the 0001 serial number and the official name of the Sevastopol PC-400.
"Thus, at the Sevmorzavod, the tradition of the naming of floating cranes, which existed since the 50s of the last century, was revived. At one of the oldest Russian shipyards, which is also the ancestor of the domestic floating construction, more than 70 floating cranes were produced, the vast majority of which are actively used to date, "the release says.
It is noted that the whole series of such floating cranes had their own names - "Chernomorets", "Bogatyr", "Sevastopol", "Glory of Sevastopol".
Earlier it was reported that "Sevmorzavod" received an order for the manufacture of a floating crane costing 2,7 billion rubles. The customer is the Admiralty Shipyards (St. Petersburg), the delivery of the floating crane is planned to be completed by December 31 of the year 2019.
Reference bmpd: "Sevmorzavod PJSC, from 2010 on 89,3% controlled by the structures of the current President of Ukraine, Petro Poroshenko, was nationalized by the Crimean authorities in February on 2015 of the year. In November of the same year, the Sevmorzavod concluded an agreement on the transfer of its main production sites to 49 for a long-term lease to the Zvezdochka Center for Ship Repair, which is part of United Shipbuilding Corporation (USC). "